UK chancellor Philip Hammond has ditched predecessor George Osborne's commitment to return government finances to a surplus by 2020.
In the government's first major economic announcement since the Brexit vote, Hammond also unveiled lower economic growth forecasts in his first Autumn Statement as Chancellor on Wednesday (23 November).
"Today the Office for Budget Responsibility forecasts economic growth of 2.1% for 2016, 1.4% in 2017 (down from 2.2%), 1.7% in 2018 (down from 2.1%), 2.1% in 2019 (down from 2.1%), and 2.0% in 2020 (down from 2.1%)."
Hammond acknowledged that while the economic growth forecast for 2017 was not as high as he would have liked, the economic growth rate would be on par with Germany and "higher than both France and Italy."
Despite ditching Osborne's target on budget surplus by 2020, Hammond said the government will publish a draft charter for budget responsibility with three fiscal rules.
"First, the public finances should be returned to balance as early as possible in the next parliament, and in the interim cyclically adjusted borrowing should be below 2% by the end of this parliament."
"Second, public sector net debt as a share of GDP must be falling by the end of this parliament, and third, that welfare spending must be within a cap set by the government and monitored by the OBR."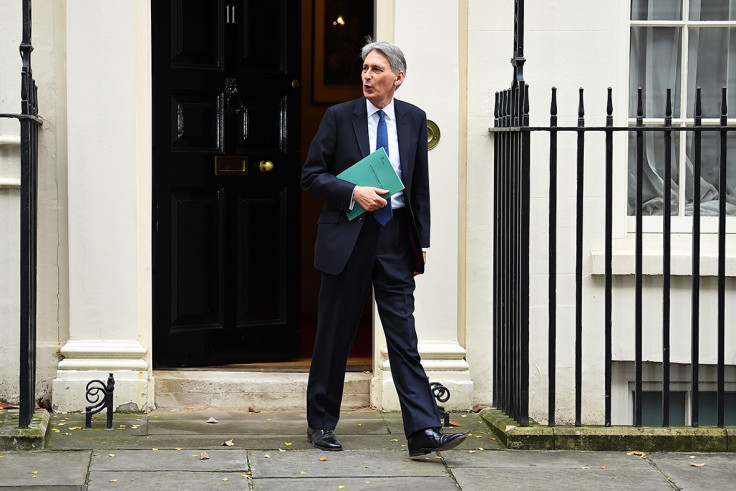 Hammond said the government remains firmly committed to seeing public finances return to balance "as soon as soon as practicable, while leaving enough flexibility to support the economy in the near term."
The chancellor added that debt will rise until 2018-19, after which it is expected to fall for the first time since 2002, and continue falling thereafter. Moving on from economic growth forecasts, Hammond added that the government will work to confront Brexit challenges head on and help the country become more productive.
To this effect, the chancellor announced a "National Productivity Investment Fund" of £23bn, to be spent on innovation and infrastructure over the next five years. "Investing today for the economy of the future," he added.
He also pledged more than £1bn for broadband and 5G; a move piloted earlier this week. "My ambition is for the UK to be a world leader in 5G. That means a full fibre network; a step-change in speed, security and reliability," he said.
The chancellor also confirmed funding for 40,000 new homes and announced a large-scale pilot to give the right to buy to housing association tenants.
"We will focus government infrastructure investment to unlock land for housing with a new £2.3bn Housing Infrastructure Fund to deliver infrastructure for up to 100,000 new homes in areas of high demand.
"And, to provide affordable housing that supports a wide range of need, we will invest a further £1.4bn to deliver 40,000 additional affordable homes."