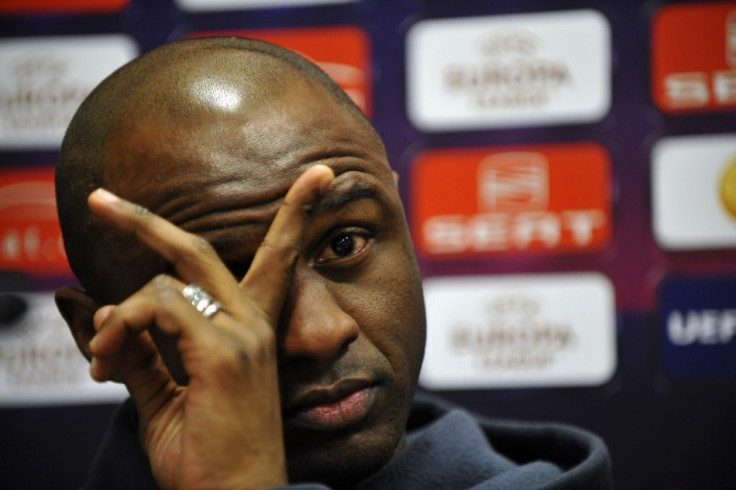 Former Premier League referee Graham Poll has chastised Patrick Vieira for claiming Manchester United receive preferential treatment from match officials.
In an interview with the BBC, Vieira said: "When United play at home they get some advantage that other teams don't get. I think when you go to United, Madrid, Barcelona, or Milan, when the referees referee these kind of games, it's always difficult to go against these kind of teams."
Vieira has since criticised the BBC for taking his comments "completely out of context" after he gave the interview to publicise Football Against Hunger, a campaign to tackle starvation in Africa. Vieira's remarks were published in the wake of Manchester United's 1-0 win over Fulham on Monday, when Danny Murphy was fouled in the box by Michael Carrick but no penalty was awarded.
The Manchester City football development executive has claimed he did not see the incident but his observations have exacerbated hostilities between the two Manchester clubs after the Frenchman said last week that the decision to bring Paul Scholes out of retirement was a desperate move by Sir Alex Ferguson.
Vieira said: "I made it clear in the interview, twice, that I wanted to avoid criticising Manchester United and even stated that I didn't watch the United game against Fulham and had not seen the incident to which the reporter referred. That part of the interview was ignored and my comments were taken completely out of context."
Nevertheless, former official Graham Poll contends that Vieira's comments are misplaced and reflect a lack of understanding about the nuances of refereeing at the Premier League's top grounds.
"Patrick Vieira's assertion that the big teams, especially Manchester United, are favoured by refereeing decisions in their home games is wide of the mark," Poll told the Daily Mail.
"When any of the elite sides play at home they tend to dominate possession and, as a result, their opponents give away more free-kicks.
"That's a natural consequence of a smaller club going into a game knowing a draw would be a good result."
Poll added: "Referees in the Premier League have been professional since 2001 and regularly work with sports psychologists. One of the key instructions they receive is to control the controllable.
"Subconsciously, though, referees know that if they give a soft penalty against one of the big sides they will be headline news, and none of them wants that.
"Knowing this, and much to Sir Alex Ferguson's disappointment, I tended not to give penalties at either end at Old Trafford. But I was compelled to do just that in my last season - 2006-07 - and the penalty went to Arsenal. They missed it."