It was all about Madonna, as the music stars of the moment made their grand entrance at the Staples Centre for the Grammy awards.
The 56-year-old, who is renowned for making an entrance, swept onto the red carpet in a sexy matador outfit.
The monochrome Givenchy ensemble saw the Material Girl bare her cleavage and flash her rear at surprised onlookers.
She was accompanied by the DJ Diplo and rapper Nas at the star-studded music event, both of whom have worked with her on her new album Rebel Heart.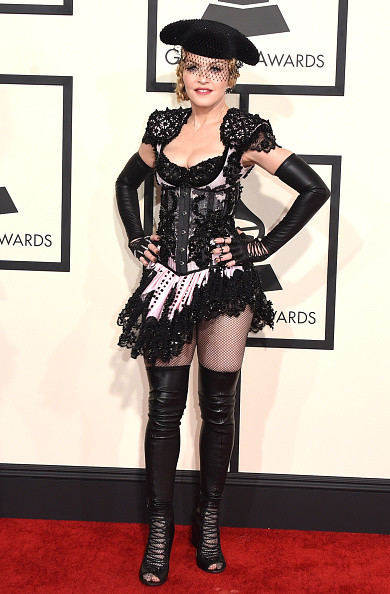 Always one to shock, Madonna left E! host Ryan Seacrest red-faced as she swore on live TV and lifted her skirt tails to expose her bottom.
Discussing the leak of her album she exclaimed: "I was p***ed!"
The singer has been the focus of controversy for using images of civil rights leaders like Martin Luther King Jr to promote her new album.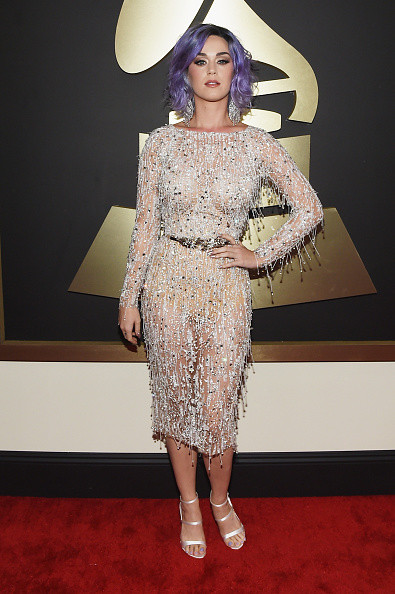 Madonna, who has won seven Grammys over her three-decade career, will be performing on the night, her second consecutive Grammy's live performance. Last year she joined Macklemore and Ryan Lewis last year for their same-sex marriage anthem, Same Love, as 33 couples of diverse backgrounds were married on the Grammys floor in Los Angeles.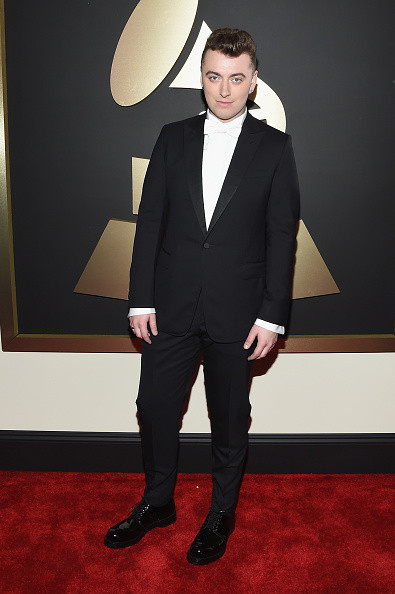 Among the music luminaries were a host of Brits lead by the leader of the pack and music royalty Paul McCartney. The former Beatle and British music icon will also be performing in an eclectic set with Rihanna and Kanye West.
Other performers include Beyonce, Lady Gaga, Katy Perry, Pharrell, Sia, John Mayer, Ariana Grande and Mary J. Blige.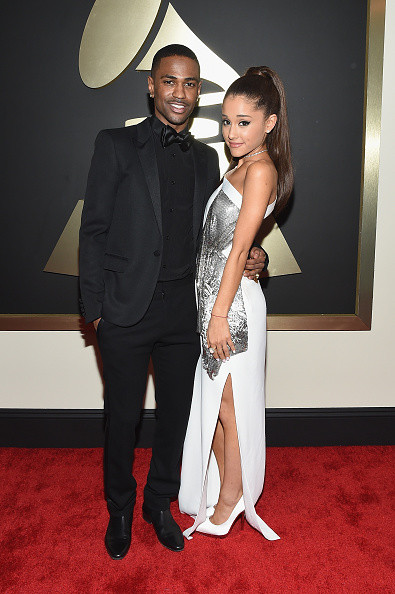 Meanwhile, music pundits are expecting a British triumph and a clean sweep for Sam Smith who is nominated for six awards. The La La La singer looked suave in a stylish tuxedo as he braced himself or what looks like being a milestone in his career.
Sean Paul and Arianna Grande were among the couples posing together on the red carpet along with Chrissy Tiegen and John Legend and Nick Jonas and Olivio Culpo.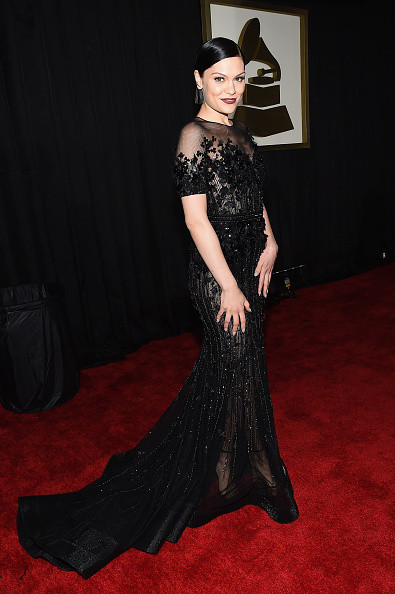 Jessie J married a goth style with Hollywood glamour in a shimmering black gown with coordinated ear-cuffs. Welsh crooner Tom Jones made a striking entrance in a royal blue suit.
Before making their red carpet entrances, there were those who indulged in some pre-Grammy celebrations. The Voice judge Rita Ora was seen hitting the town with party girl Miley Cyrus, while Beyonce and Jay-Z settled for a rather more sedate gathering.