The Grammys 2017 saw the top talents in music descend on Los Angeles last night (12 February). Comedian James Corden helmed, hosting music's biggest night at the Staples Center – and it was certainly an eventful evening, with a mix of tears and laughter.
Adele wins album of the year
British superstar Adele came out on top, winning five awards including the prestigious album of the year with 25. Clearly feeling guilty about beating her rival Beyonce, Adele made sure to tribute Queen Bey in her acceptance speech, describing the Formation singer as "the light" of the music industry.
The Hello star said: "I can't possibly accept this award. The Lemonade album was just so monumental, Beyoncé. It was so monumental and well thought-out and beautiful and soul-bearing... we appreciate that. All of us artists here adore you." Then, like only Adele would, she snapped her Grammy Award in half leaving a touched Beyonce in tears. Nothing like a bit of girl power.
Bruno Mars pays tribute to Prince
Fantastic performances came from the likes of Lady Gaga, Metallica, The Weeknd and Katy Perry, but no one stood out quite like Bruno Mars, who painted the Grammys purple for a fitting tribute to late legend Prince. Wearing one of the singer's iconic outfits from the Purple Rain era, Mars rocked out to Jungle Love and Let's Go Crazy while delivering terrific guitar riffs that would surely have made Prince proud.
Grammys talk politics as Rihanna brings her hip flask
The political tension in the US was not forgotten during the ceremony with A Tribe Called Quest, Jennifer Lopez and Paris Jackson among those to make bold statements against President Trump's administration. Fortunately, Rihanna provided some light relief and became a meme sensation after swigging from a bejewelled hip flask throughout the night. At one point, the Work star was seen mouthing to her friend: "I think it's time for another shot." Standard, RiRi.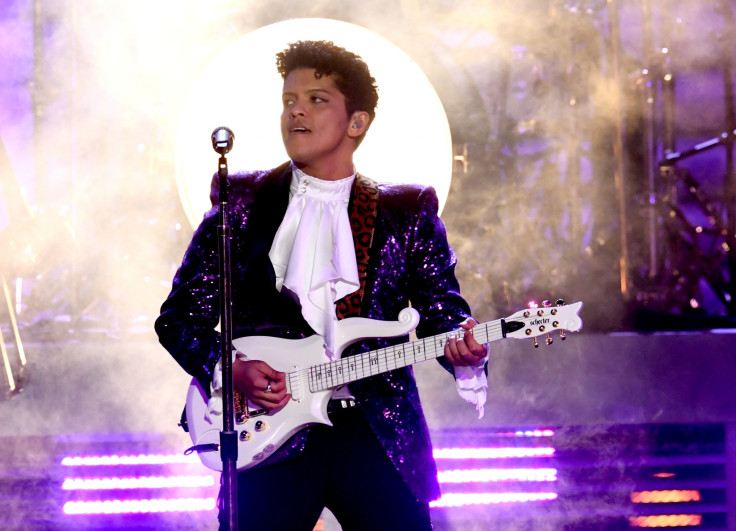 Carpool Karaoke
Presenter James Corden managed to incorporate his Carpool Karaoke segment, with Jennifer Lopez, Faith Hill, John Legend and even little Blue Ivy among those who joined the host for a ride.
Chance The Rapper triumphs
As for the top accolades, Chance The Rapper had a fantastic night winning best new artist and best rap performance while Adele claimed both song and record of the year with Hello. David Bowie won five posthumous awards while Sturgill Simpson won best country album.
If you missed all the action, the Grammys 2017 will air in the UK on 13 February at 8pm on 4Music.