Adele initially refused her Grammy award for best album after she told the audience that she believed that Beyonce had deserved it more.
The British star got the top honour for her album 25, but told the audience: "I can't possibly accept this award. I'm very humbled and I'm very grateful, but Beyonce is the artist of my life".
The pair faced off in the top three categories for best album, record and song of the year. Although Adele walked off with all five awards she had been nominated for, it was one of the controversial moments in the politically charged atmosphere at the Staples Centre in Los Angeles which held the 59th annual awards.
Hosted by James Corden, the illustrious event saw the musical elite battle it out for the top awards.
And all eyes were on Beyoncé, who with nine nominations was a star attraction on the night. However, she only won one - for Best Video. The event marked her first official public appearance since announcing that she is expecting twins.
The singer, who is renowned for her sartorial style, made a showstopping appearance in a live performance, looking like the Queen of the Nile, dressed from head to toe in gold.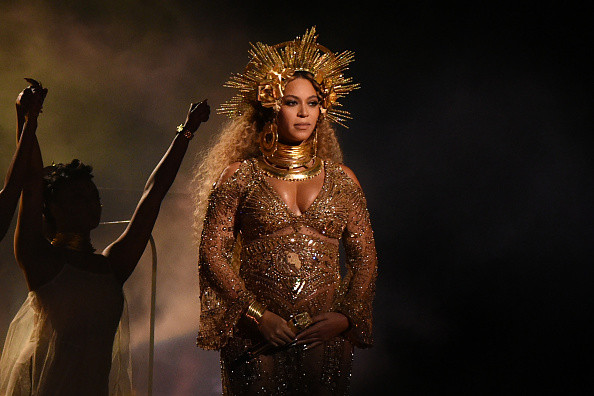 The A-list stars often use the platforms of the Golden Globes, the SAG Awards and The Baftas to address volatile political issues and this evening was no exception.
During the ceremony, the rapper Busta Rhymes referred to Donald Trump as "President Agent Orange. " A Tribe Called Quest were also critical of the new presidential administration during a tribute to Phife Dawg, who died in March 2016.
Before she presented an award, J Lo set described how "our voices are needed more than ever" while Paris Jackson referred to the protests at Standing Rock pipeline.
Meanwhile, Grammy regulars Drake, Kanye, Chance, Rihanna, had multiple nominations, with Adele scooping Best Pop Album and Best Solo Performance.
The best new artist category saw two country ingénues (Kelsea Ballerini and Maren Morris) take on rappers (Chance the Rapper and Anderson Paak) for the coveted award, with Chance the Rapper coming out on top.