This month, the Kensington Olympia Exhibition Centre will host the Great British Beer Festival.
Some 55,000 people will attend the event and sample almost 1,000 different real ales, craft beers and ciders.
Scattered among the exhibitors will be up to 70 London craft breweries, demonstrating the enormous growth the sector has enjoyed in recent years.
"Six years ago when I got here it was still a lot of mainstream lagers, ales and cask which I didn't find very interesting. Now it's grown... there were only five or 10 breweries in London. Now you're up to 60ish roughly and within the next couple of years you'll be hitting the three figures, 100, which is fantastic," Durham Atkinson, the managing director of the Hops & Glory craft beer pub on the Essex Road told IBTimes UK.
The pub brews a couple of its own beers to go along with the dozens of external beers it sells on premises. Atkinson is about to install a one barrel kit in the basement which will allow them to increase the amount they make and, all being well, sell their product elsewhere.
And it doesn't seem like there will be any issue with demand.
The research firm Mintel estimates that 23% of British people above the legal age for drinking have consumed a craft beer in the past six months. In London, the figure is 38%. That means more than two million Londoners have polished off a craft beer this year.
"'With many operators taking advantage of government tax breaks for smaller producers, there has been a boom in craft brewers over the past decade. Many of these have produced newer types of beers, often seen as premium and conducive to trading up. This trend has continued over the past year with over 100 new breweries opening and the number of brewers reaching a 70-year high.' – said Chris Wisson, a drinks analyst at the firm.
Much of the growth can be explained by the broadening of consumer demand, with UK drinkers becoming more adventurous and demanding a better quality and tastier product.
"Compared to lager in kegs, which is just cold and fizzy, the craft keg stuff is seen as packed full of flavour but is still just cold and fizzy. People really like that especially in the summer, where do you want to be? In a park with something cold and fizzy, but now you can have that and it be tasting amazing, which is a fantastic pull," says Jon Swain, one of the founders of the Hackney Brewery which, after starting brewing in 2012, has recently invested heavily in equipment to allow it to start making kegged beers to go along with its current cask output.
Mintel's research shows that 50% of UK beer drinkers expect craft beers to taste better than non-craft beer such as Fosters or Budweiser. Considering how relatively new the tipple is to many drinkers, that's an impressive figure.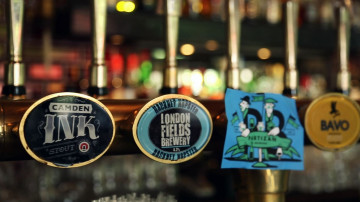 The beer industry is undergoing a transformation similar to that enjoyed by the food industry in the 2000s, when people wanted to reconnect with their food, opting to shop local and artisanal, often willing to spend a bit more money on a better quality product.
This can be, in part, traced back to the global financial crisis of 2008. People became more careful with how they spent their money and demanded something that tasted better than standard lager. The local movement, whereby people wish to support those producers close to home, clearly has a standing in this: 67% of UK beer drinkers think that drinking regional or craft beers is a good way to support local producers and therefore the community at large.
But more than anything, it's likely that London's captive market of drinkers – about six million people – are more willing to try something new than those elsewhere in the UK. Other cities, such as Manchester, Edinburgh, Bristol in particular, are catching on fast. But nowhere has fallen quite so madly for craft beer than London.
The Great British Beer Festival takes place in the Olympia, Kensington from 12-16 August. You can buy tickets here.