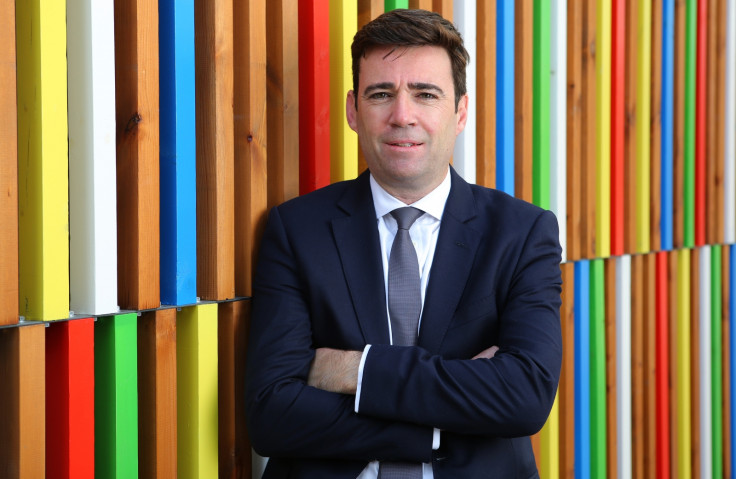 Football mad Manchester boasts two top tier teams, a national museum to the beautiful game and former players enjoy folk hero status in the North West city. Mancunians take their soccer seriously and clashes between United and City can sometimes descend into tribal warfare, with more than offensive heckles being exchanged between fans.
That is why some may be surprised to learn that Labour's Andy Burnham is hoping to secure the party's nomination to run for the office of Greater Manchester Mayor. The shadow home secretary was born near Liverpool and supports Everton, a Premier League rival of the Red Devils and City. You would be forgiven for thinking Burnham is more Merseyside than Mancunian.
But the Leigh MP has insisted he has "always felt between the two" identities and used some famous Scouse exports to dispel the Liverpool/Manchester divide.
"I can think of some other Evertonians who haven't done too bad over here – Mr [Wayne] Rooney and Joe Royle and Peter Reid at Man City. Does that matter?" he told The Guardian.
"The way I look at it is: the two cities have so much in common anyway, and actually, most people have connections across the two. I'm certainly in that category."
The other notable aforementioned connection of Bunrham's is football and politics. He was administrator for Labour's Football Task Force, became a special adviser to the then Culture Secretary Chris Smith in 1998 and was a member of the "Demon Eyes" football team.
The squad, named after a 1997 Tory attack poster against Tony Blair, was made up of rising New Labour stars, including top BBC executive James Purnell. Burnham apparently had an eye for a goal and played up-front for the team.
He was first elected to parliament at the 2001 general election, holding the safe seat of Leigh for Labour, and was later promoted to chief secretary to Treasury, culture secretary and health secretary by former prime minister Gordon Brown.
Hillsborough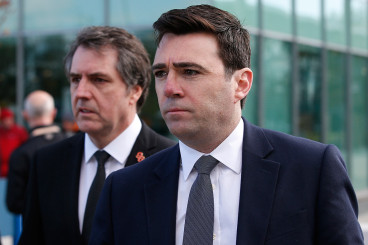 Football would be interlinked with Burnham's political in 2009, when he was heckled by furious Liverpool fans at the 20th anniversary of the Hillsborough disaster.
The Anfield crowd's demands for justice for the 96 left dead in the 1986 Sheffield tragedy prompted Burnham to raise the issue in the House of Commons, triggering an investigation from the Hillsborough Independent Panel.
The group concluded in 2012 that the fans were not to blame for the crush and claimed South Yorkshire Police (SYP) had tampered with witness statements. "Some 116 of the 164 statements identified for substantive amendment were amended to remove or alter comments unfavourable to SYP," the report stated.
The investigation led to the High Court quashing the conclusions of the original inquest into the tragedy and a new inquest in 2014. The jury concluded in April 2016 that the 96 football fans had been "unlawfully killed" and listed numerous failures from the emergency services.
"At long last, justice for the 96, for their families, for all Liverpool supporters, for an entire city," Burnham told MPs. "But it took too long in coming and the struggle for it took too great a toll on too many. Now those responsible must be held to account for 96 unlawful deaths and a 27-year cover-up."
From playing it, to watching it, to defending its fans, football has always been part of the Burnham story. But even in Manchester, Burnham will need to make a bid beyond the beautiful game. He is expected to claim that Westminster has failed the North and declare the Greater Manchester mayoralty is a "cabinet-level job that requires cabinet-level experience", as he launches his campaign.
Burnham, who was thrashed by Jeremy Corbyn in Labour's 2015 leadership election, is up against a tough local politician in Tony Lloyd, the current interim Mayor of Greater Manchester, and former minister Ivan Lewis also hoping to win the party's nomination.
Whoever wins Labour's backing is expected to go on to secure the new high profile job, a £6bn health and social care budget and a range of devolved powers, covering transport and housing, which could even make the new Mayor of London Sadiq Khan envious. The victor would also have his own power base, away from Corbyn's Labour.