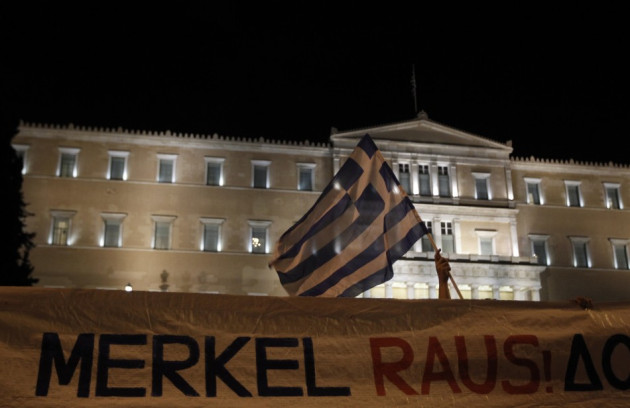 Greeks are gearing up for massive protests against German Chancellor Angela Merkel's visit to the European nation amid the economic turmoil.
Although the Greek government has imposed a ban on street protests, anti-austerity activists are unlikely to heed it.
The police have announced that rallies and open-air gatherings are prohibited in central Athens until Merkel leaves the country.
Such a ban on street rallies has not been imposed on the country since 1974 when the military rule was ousted.
Merkel has often been seen as one of the hated figures in Greece and even been compared to Adolf Hitler by some local media. During previous general strikes, Merkel had been an object of hatred for the campaigners.
Protesters took to the streets on the eve of Merkel's visit which went on till the night, to give a hint of what can be expected on the day of Merkel's presence. There is widespread fear that the volatile protests could burst into violence.
Opposition parties have also called for protests outside the German embassy despite the ban.
Greek Prime Minister Antonis Samaras put on a brave face promising a smooth visit for Merkel. The government has urged the activists to save the international image of Greece.
It is not clear how the security forces would react if the protesters try to defy the ban.
"Syndicates and all of society will give a dynamic response to the plans of Merkel and European powers that are imposed by creditors and implemented by the government," said the Greek unions which are spearheading the protests.
As part of the security measures, snipers will be placed on rooftops and airborne helicopters carrying army troops would be ready for any eventuality.
The six-hour stay will be Merkel's first visit to Greece in five years.
"She is going to Greece to express her support for the ambitious reform efforts that the Greeks have set out and are ‑ in part - beginning to implement. We should not forget - and I think this is sometimes forgotten in Germany - that Greece can point to some successes when it comes to reducing the deficit through very difficult measures," Chancellor's spokesperson Steffen Seibert said on the eve of her visit.