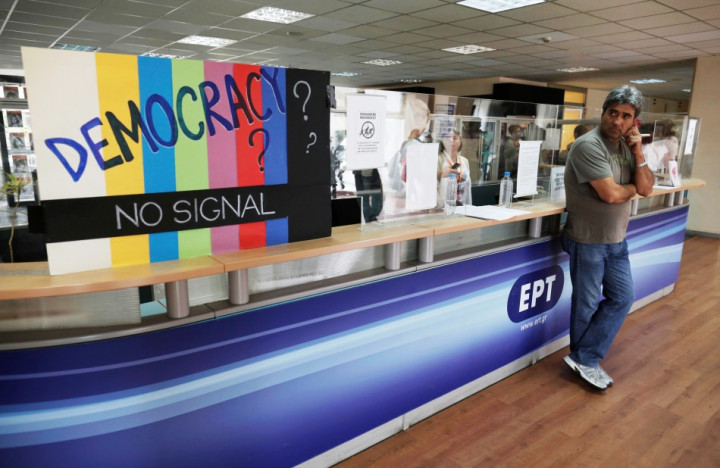 Greece is set to resume negotiations, with its international lenders to get €8.1bn (£7bn, $10.5bn) in bailout credit, after a two-week hiatus.
Talks were put on hold as Prime Minister Antonis Samaras's government almost collapsed over bailout-related job cuts at state broadcaster ERT. The crisis-hit nation has agreed as part of its rescue package terms to cut 15,000 public sector jobs by the end of 2014.
ERT's 2,900 employees were sacked on 12 June.
The €8.1bn tranche is one of the last major cash infusions by the three lenders, the International Monetary Fund, the European Central Bank and the European Commission, referred to as the troika. Greece's €240bn rescue deal expires at the end of 2014.
Public sector reforms and privatisation plans have been delayed. Samaras cannot afford any new austerity measures after losing a coalition partner in the ERT crisis, leaving him with a slender majority in the 300-seat Greek parliament.
If negotiations fail, the IMF may have to pull out of the rescue deal to avoid violating its own rules.
The country, however, has enough spare cash to compensate for any short-term slippages in the rescue deal, Greek officials told Reuters.
Athens needs funds to buy back about €2.2bn worth of bonds in August.
State-run insurer EOPYY is running short of €1bn, suggesting that spending cuts will have to be enforced on the firm to prevent further damage.
The government has missed a June deadline to place 12,500 public sector workers into a so-called "mobility scheme", which was to transfer or terminate their employment within a year.
Greek officials and its lenders are unable to decide on an unpopular property tax and on a potential cutback in a consumption tax on restaurants.
Amid austerity debates, Finance Minister Yannis Stournaras is expected to ask the troika to lower this year's privatisation target of €2.6bn after Greece failed to privatise natural gas company DEP. "The lenders will give us trouble but less so than in previous reviews," one government aide told reporters.
Greece's economic crisis has increased the support for anti-bailout parties such as the ultra-right Golden Dawn, given that Athens will require more financial help after the current rescue deal expires.