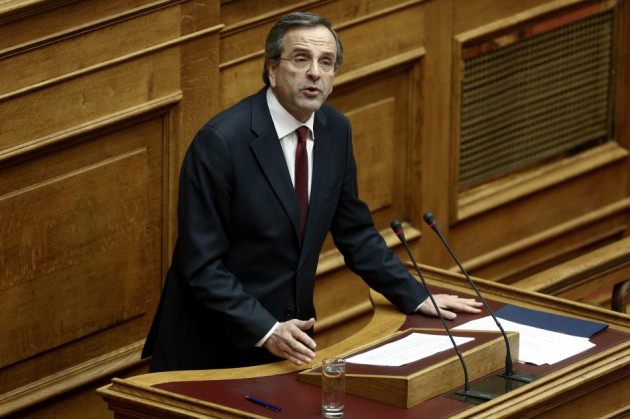 The Greek parliament has managed to pass its 2013 budget of tight austerity measures amid protests, but Athens may not receive its vital monetary aid as soon as it hopes.
The budget, which was passed by 167 votes to 128, was a major requirement for the country to receive the much-needed 31.5bn euro (£25bn) loan from the European Union (EU) and the International Monetary Fund (IMF).
The parliament had narrowly passed an austerity package of tax hikes and pension cuts in the previous week as well.
Eurozone finance ministers, meeting in Brussels later in the day, are expected to take a call on the bailout decision after considering the country's efforts.
However, Greece's hopes of unlocking its monetary aid may not materialise that soon. Reports suggest that the ministers may not back the loans at the upcoming meeting as Athens has not yet confirmed how it will make its debt sustainable.
"There is a very, very high ... probability of a second round of discussions to finalise everything," a senior EU official told Reuters.
But officials have reportedly said that Greece could get another two years to cut its debt.
BBC reports also suggest that it may take weeks before the EU allows a new instalment, as it may have to be passed in various parliaments including Germany's.
Greek Prime Minister Antonis Samaras had earlier said that that his country may run out of money soon if the aid funds are not unlocked. Samaras is expected to travel to Brussels for a series of meetings with ministers.
Greece's economy is expected to contract 4.5 percent in the coming year, while its public debt could go up to 189 percent of the Gross Domestic Product (GDP). The public debt remained at 175 percent this year.
The budget voting took place even as around 10,000 protesters gathered in front of the parliament, bringing the centre of the capital to a standstill. But unlike the previous week, protesters remained largely peaceful.
Alexis Tspiras, the head of the left-wing opposition party, Syriza, condemned the government's move to implement austerity measures, saying that the spending cuts will deprive Greeks of essential materials this winter.
"This is why we say you are dangerous for this country," he said, addressing the administration. "You are incapable of negotiating."