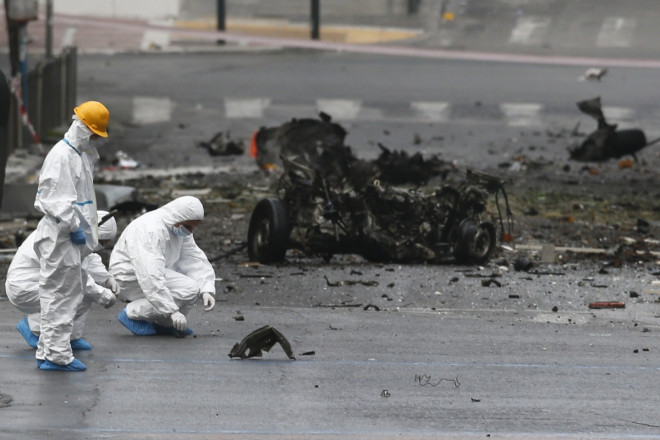 An anonymous caller warned of a suspected terrorist attack in the capital over three quarters of an hour before a car bomb detonated outside the Bank of Greece.
The person contacted a Greek newspaper and Greek news website about the planted device at approximately 5.11am local time (2.11am GMT), 49 minutes before the bomb blast.
In the call to the news website, the mysterious caller warned that a bomb containing 75kg of explosives had been planted in a vehicle.
No group has yet claimed responsibility for the attack, which caused damage but no injuries.
Whether the caller is linked to the attack remains unclear but their prior knowledge of the bomb's planting suggests that a link to the device is probable.
After the call, police combed the blast area for any potential devices while workers waited nearby. When the bomb detonated it shattered nearby windows and damaged buildings 200 metres away.
"The evident target of the attackers is to change this image, and change the agenda," government spokesman Simos Kedikoglou said on a Greek television news show. "We will not allow the attackers to achieve their aim."
The call, made anonymously, raises the possibility that the incident is a lone-wolf attack, while domestic terrorists are also suspected.
The attack came before Greece launched a five-year bond issue, its first since it was frozen out of international markets in 2010 and a sign that the country is emerging from its financial crisis.
Since 2010, Greece has relied on bailout money from the European Union, coupled with deep spending cuts and economic reforms to deal with its fiscal crisis.