Greeks are claiming that Germany still owes billions of euros in reparations for crimes committed under the Nazi regime during World War II - as the country reacts to a long haul of austerity measures.
Campaigners have taken to the streets, lashing out at the financial authority imposed by Germany and the Troika, comprising the European Union (EU), International Monetary Fund (IMF) and European Central Bank (ECB). Greece has been subjected to a programme of austerity measures in return for billions of euros in bailout funds.
However, Aristomenis Syngelakis is leading a campaign to get Germany to "pay back" €162bn (£134bn, $223bn) to compensate for hundreds of villages destroyed by the Nazis and the killing of thousands of citizens between 1941 and 1944.
He claims that the campaign is not just about claiming back much-needed cash but it is also about bolstering national pride.
"I will not give up the fight. I owe it to my father who saw his father, grandfather and three brothers killed by the Germans," said Syngelakis to Reuters.
Germany has already stipulated that that is has honoured its war obligations by paying Greece €59m in reparations in 1960 and that Greeks' demand for more cash has been considered but rejected.
"This question has been thoroughly examined and answered negatively," said government spokesman Steffen Seibert in March this year.
Why Greece Needs More Money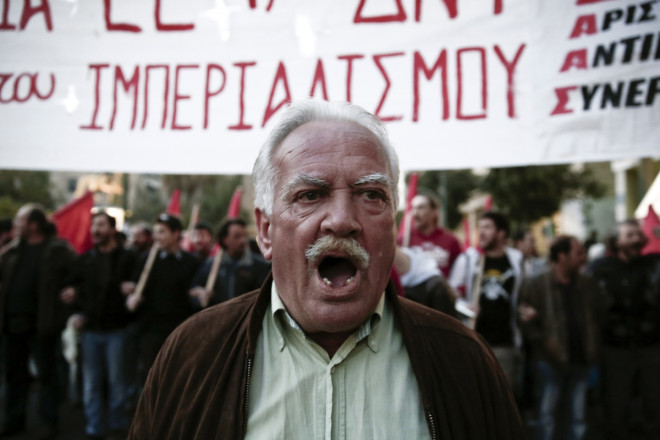 Last month, European authorities revealed that they are not considering a third bailout package for Greece despite the country still suffering from economic hardship.
The Troika promised €240bn repair the Greek economy, which was dragged into a crisis in 2010 after its public finances have spun out of control.
In return, Greece was asked to undertake major austerity cuts.
Bailout terms imposed by lenders have troubled Athens, which faced a number of protests over its proposed austerity measures. Due to the delay in undertaking reforms, the lenders found it hard to disburse amounts under already promised packages.
The second eurozone bailout programme for Greece expires at the end of 2014, and a failure to secure funds is expected to trouble the country further.
In February, German media reported that Berlin was looking into the possibilities for a further €10bn to €20bn in aid to Greece.