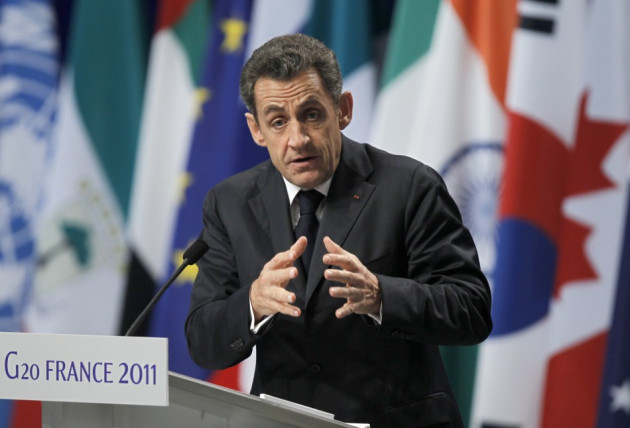 European and world leaders at the G20 will discuss Friday the prospect of a European Union without Greece, having come to terms for the first time with the prospect that the country may have to leave to save the single currency.
On a busy day, both at the G20 in Cannes, France, and in Athens, where the Greek prime minister, George Papandreou, faces a vote of no confidence in Parliament, the future of the EU may take a new shape as early as Friday evening.
Should the Greek Parliament decide to leave the eurozone, the G20 will have to broker a deal, most likely with the Chinese, to boost the firepower of the International Monetary Fund to protect countries exposed from Greek debt, including Italy, Spain and Portugal.
Prime Minister David Cameron confirmed Thursday that Britain will support the IMF but it is yet unclear of how much of the UK's taxpayers money will be invested into the fund.
Should a deal be made, however, managing economist at CEBR Charles Davis said: "It could work and if the economies balance throughout Europe, this would have a very good effect on the markets."
He added: "We've been saying for 18 months that Greece should have been left to default."
British Chancellor of the Exchequer George Osborne said there was a "sense of real urgency" to get business done Friday, recognising the European Central Bank had cut interest rates from 1.5 to 1.25 percent.
U.S. President Barack Obama also urged the eurozone leaders to "flesh out" the bailout strategy, but with the Greek situation up in the air until the make-or-break Parliament vote, it will be hard to nail down concrete proposals until eurozone leaders know they are pressing ahead with or without the indebted country.
French President Nicolas Sarkozy summed up the confusion in a statement late Thursday night. He said: "We have said clearly that we want Greece to stay in the euro, but we cannot wish for this if she does not want it herself. We have to defend the currency. ... We cannot accept the breakup of the euro. That would mean the breakup of Europe."