Tension is simmering between Greece and Turkey after Istanbul allowed for daily Koran readings to take place during the fasting month of Ramadan in the Hagia Sophia in Istanbul, Turkey. The United Nations world heritage site had been the world's biggest Greek Orthodox Christian church in the world for almost 1,000 years.
In a statement, the Greek Foreign Ministry said: "We condemn as regressive the Turkish authorities' announcement of the scheduling of a Koran reading in Hagia Sophia in Istanbul, on the occasion of Ramadan. Obsessions, verging on bigotry with Muslim rituals in a monument of world cultural heritage are incomprehensible and reveal a lack of respect for and connection with reality."
Referring to Turkey's modern secular traditions, the statement added: "... Such actions are not compatible with modern, democratic and secular societies." The recitals started on Monday 6 June and are being broadcast on Turkish television.
News that the building, which is now a museum, is being used for Islamic readings, has been dominating Greek newspaper and television news, The Times reported. There have also been accusations that Turkey, under President Recep Erdogan was abandoning the country's secular traditions.
The European People's Parliament MEP, Elissavet Vozemberg-Vrionidi, has put forward a question to the European Commission over the "conversion of Hagia Sophia, a symbol of Greek Christianity into a mosque through the live telecast of Korean readings from the basilica."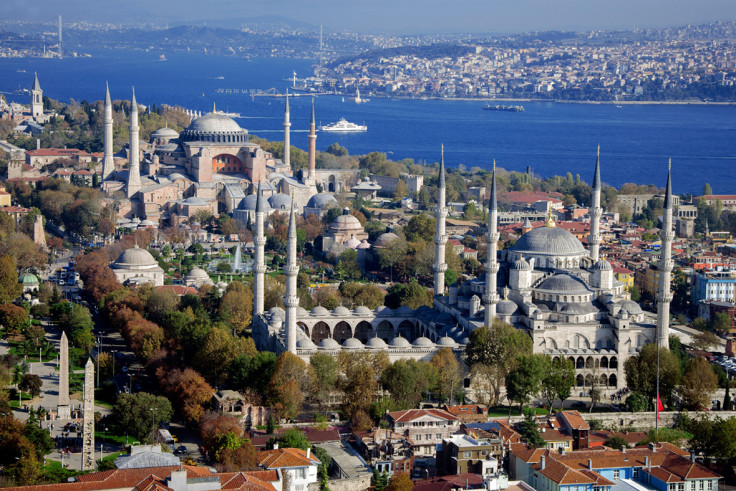 The Greek Reporter said that the MEP is seeking clarity on whether such a practice "constitute a lack of respect for Christians around the world". She also called for initiatives to be taken to preserve the monument.
Dora Bakoyannis, a former Greek foreign minister, said: "The decision of Turkish authorities to schedule the Koran reading in Hagia Sophia for the next month, has virtually transformed it into a mosque for the first time in 80 years. It is a provocative and incomprehensible act and shows disrespect against Orthodox Christians across the world and is not in line with Turkey's European course."
The Hagia Sophia served as a Christian church until the Ottomans converted it into a mosque when they took the city in 1453. However, the founder of modern Turkey, Mustafa Ataturk turned the building into a museum in 1935. Hagia Sophia was designated a UN world heritage site in 1985.
The Times also said that on 4 June, thousands of Muslim worshippers had gathered outside the building, demanding the right to pray there. An imam led a prayer before the crowds started calling for the site to be restored as a Muslim place of worship.