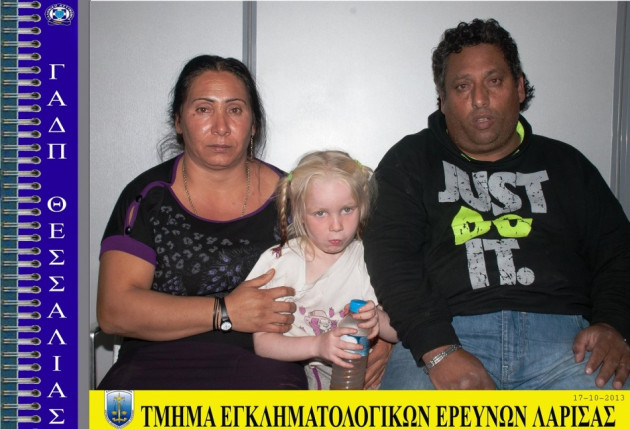 A Greek court has remanded in custody a couple accused of kidnapping a little blonde girl whose discovery in a Roma settlement has rekindled hopes for the parents of mssing British child Madeleine McCann.
A court in Larissa, central Greece, ordered Christos Salis, 39 and his wife to be placed in pre-trial detention pending trial on charges of abduction of a minor and forgery.
Salis faces separate charges for allegedly possessing an illegal firearm and drug-related offences.
Salis's wife is known to have used at least two different identities - Eleftheria Dimopoulou, 40, and Selini Sali, 41, Ekathimerini newspaper reported.
The couple was arrested when police searching the camp in the central town of Farsala found the blonde, blue-eyed girl named only as Maria. DNA tests revealed that she was not their natural daughter.
"In the progress of the investigations it emerged that the two Roma natives have taken the girl away from her biological parents in 2009," Greek police said.
The woman also claimed to have given birth to six children in an eight-month period, prompting investigators to suspect the couple could be involved in a child trafficking ring.
The two have denied the charges and claimed that the child was given up to them by her biological mother who was destitute.
The parents of Madeleine, the British girl who went missing on a family holiday in Portugal in 2007, said the case had given them "great hope" that their daughter might one day be found alive.
The blonde girl, who speaks only Roma but appears to understand Greek, is in the care of The Smile of the Child charity.
A dental examination revealed that she was five or six years old, rather than four, as was initially estimated.
Smile of the Child said it received more than 8,000 calls and thousands of emails about Maria.
"The case has touched a chord with lots of people from many countries," Panayiotis Pardalis, a spokesman, said. "This case is now giving hope to parents of missing children."
Greek police have asked for the assistance of Interpol and children's charities to help identify the child.
Anyone with information is asked to call the European Hotline for Missing Children (116 000), Smile of the Child (+30 210 76 09 550) or send an email to '116000@hamogelo.gr'.