Violent clashes briefly broke out in Athens during the first general strike since Greece's left-led government came to power in January. Masked youths broke away from a protest march as it passed outside parliament and threw Molotov cocktails at police, who responded with tear gas and stun grenades.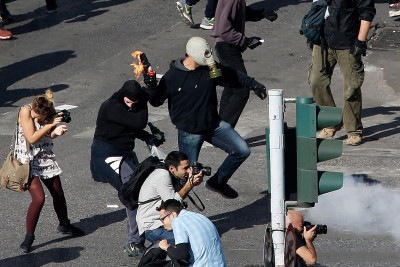 Nearly 25,000 people had been participating in three separate demonstrations in central Athens, according to police figures, protesting a new round of bailout-related tax increases and spending cuts. A march organised by a Communist-backed union gathered around 15,000 people, while 4,000 or so participated in a labour union demonstration and another 5,000 joined in a protest staged by anti-establishment and anarchist groups.
The clashes prompted demonstrators to scatter but calm soon returned after a few running scuffles through central avenues in the capital. The tension was a far cry from the more violent and extensive clashes that have broken out in the past during general strikes and other protests in Athens. Police said one policeman was slightly injured before the clashes when three men attacked him. He was treated in a hospital for light head injuries and released.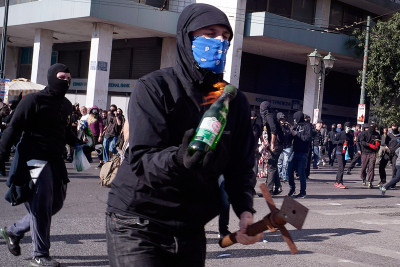 The 24-hour general strike has caused widespread disruption across Greece, with numerous public services shutting down. Public transport was severely disrupted. The Athens metro and suburban railway was shut down, while bus and trolley routes were reduced and ferries remained tied up in port, severing connections between islands and the mainland. More than a dozen domestic flights were also cancelled. The strike closed museums, state schools and pharmacies, while state hospitals were functioning with emergency staff. Journalists also walked off the job, pulling news bulletins off the air except to report on the strike.