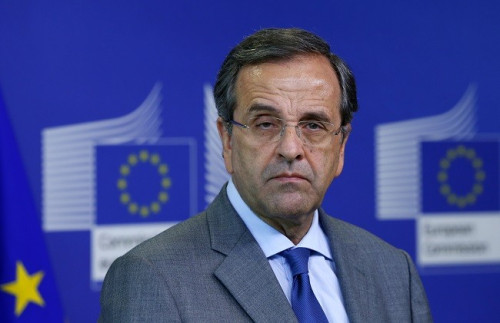 Greece's Prime Minister Antonis Samaras says his country now has a primary budget surplus of €1.5 billion (£1.2 billion), the first recorded by the country in more than a decade.
"The primary budget surplus is much higher than we had initially estimated ... I am telling you now that it exceeds €1.5bn, three times as big as we initially calculated," Samaras said in an interview published in Sunday's edition of Greek newspaper To Vima.
The figure does not take into account debt repayments to international creditors, which could top €11bn and are due in May.
Samaras will hope that the figures will show the success of Greece's fiscal austerity programme, and will persuade creditors to reduce the total of €240bn bailout loans Greece must repay.
Experts believe that without the debt being eased, Greece will struggle to emerge from its five-year recession, or reduce its record high unemployment rate of 28%.
"The narrative in Greece is that the economy is improving: For the first time, it is hitting a primary surplus; its fiscal numbers look good, and there's a clear turnaround in economic sentiment," Mujtaba Rahman, the Europe director of the Eurasia Group in London told the New York Times. "But the challenges are far from over."
Under the bailout conditions set by the troika of international creditors the International Monetary Fund, the European Central Bank and the European Commission, Greece is allowed to spend a portion of any surplus as it chooses.
However, Greece's high court recently ruling that cuts to public sector pay violated the country's constitution, leaving the government facing a hefty wage repayment bill.
With much of the government's income reliant on tax increases, experts are warning that individuals and businesses cannot pay any more, and that the country's economic progress is imperilled.
"The tax burden is killing the economy," said Evangelos Mytilineos, the chairman of Mytilineos Holdings, one of Greece's largest industrial conglomerates.