The arrival of a Siberian weather front across southern Europe has exposed the failure of the Greek government and United Nations High Commissioner For Refugees (UNHCR), the UN's refugee agency, to fully "winterise" refugee camps across the country. Volunteers and independent NGOs across the Greek mainland and islands have reported dire living conditions for refugees, even as EU spending on responding to the refugee crisis passed €1bn.
While temperatures on the islands have begun to climb again after a punishing weekend, conditions remain bleak on the mainland, where government-run camps are home to almost 34,000 refugees.
In late December, Greece's Immigration Policy Minister Ioannis Mouzalas declared that on the mainland, "there is no-one living in tents, no-one living without heating", but reports from camps around the country dispute this claim.
At Nea Kavala camp on the Greek-Macedonian border, "the refugees here have only intermittent electricity, and until the kerosene heaters arrived they were making fires outside," a long-term volunteer at Nea Kavala, Kayra Martinez, told IBTimes UK.
"The weather got pretty extreme here. The pipes are frozen, so there's no water. But there's been no consistent hot water for months. This is no place to put people, especially people fleeing from war."
Mouzalas later acknowledged the "awful" conditions on the islands at the frontline of the crisis, where 14,000 refugees reside. In Moria, the island's main refugee camp, 20cm of snow fell while "guys were walking around in flip-flops", according to volunteer Eric Kempson, 61.
"They haven't got the right clothes at all, and the military have stopped people from handing out clothes and blankets," Kempson said. "Some of them are in bad shape, with hypothermia. It's a prison camp."
Director of the Greek Asylum Service Maria Stavropoulou drew criticism for a 7 January tweet which praised staff at Moria for continuing to work on site through the cold snap, accompanied by a photo of their heated office buildings.
On Chios island, around 80 refugees were still without heating by 11 January, according to volunteer Ludek Stavinoha, 32. "That number includes women and children, even vulnerable cases," he said. "There are UNHCR field tents which are supposedly winterised, with groups of families in them, and they're still not all heated. They aren't able to protect people.
"The government claims people have heaters and electricity, but there's no water," said Stavinoha. "There's people in camp who haven't had a hot shower in weeks, and in terms of material living conditions, that's important. When you live in an unheated tent, drying clothes is impossible. Far too many have been left behind."
Back on the mainland, volunteers expressed concern that further snow, forecast for the weekend, will hamper a new government-backed scheme, due to be rolled out imminently.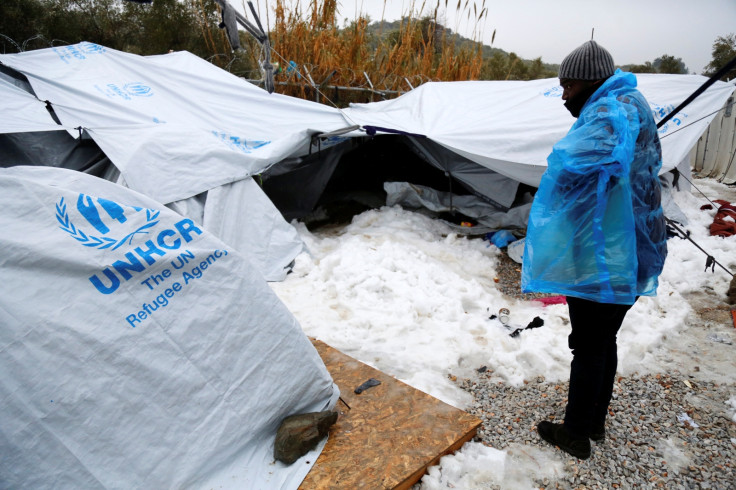 Food provision at government-run camps is to be phased out in favour of cash cards pre-loaded with a monthly allowance of euros. These cards will enable refugees to buy and cook their own food – if they can make it to a shop.
"They used to walk 25 minutes to the supermarket to buy food to cook for themselves," said Martinez of the refugees at Nea Kavela. "But the weather is so bad, people can't go to the shops now. It's not safe at all. I don't know how they're going to walk it."
An NGO director on the mainland, who declined to be named, decried the the winterisation process saying it had been inadequate throughout , and dismissed the immigration policy minister's claim that only a handful of refugees remained in tents.
However, he emphasised that this was more a matter of a lack of experience than a lack of will. "We shouldn't be here, but we are where we are," he said. "Europe needs to wake up and help the Greek government – they can't cope."
Roland Schoenbauer, UNHCR's Greece spokesperson, defended the agency's role in the crisis. "What UNHCR does is tasks that are assigned by the government," he said. "The government is coordinating. Coordination was a challenge throughout."
Schoenbauer took a similarly broad view of the responsibility for the spate of difficulties with heating and housing. "The lessons are obvious. All actors should have started earlier. But the lesson for all EU governments is that you cannot stockpile human beings in the island camps.
"You have to help the Greek government. The lesson is that 50,000 refugees and migrants don't go away if EU governments make a symbolic contribution. They must face reality."