Greek crisis: Capital flight has been on the rise since Syriza took power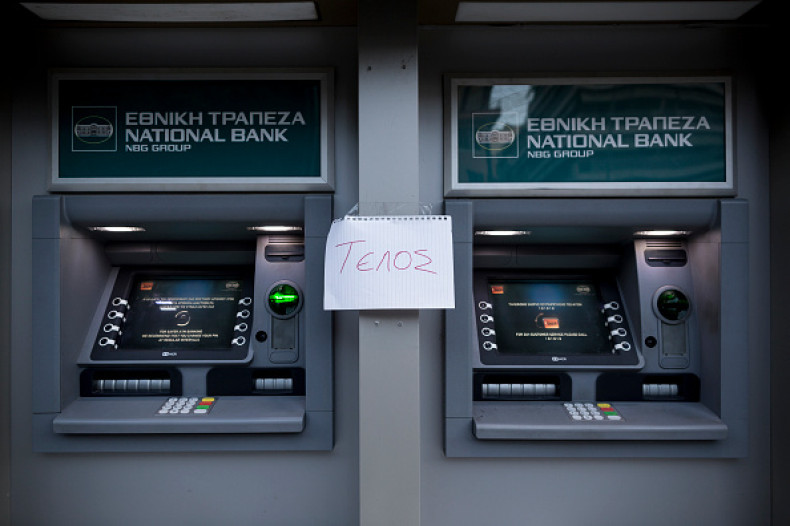 Greece has reached panic stations but capital flows from the country's banks have been running high since left-wing anti-austerity party Syriza took power.
Ratings agencies estimate that deposits valued at €164bn, (£116bn, $182bn) at the end of November 2014 now stand at €130bn as a steady flow of cash from Greek banks has gathered momentum.
After prime minister Alexis Tsipras announced a referendum last Friday night (26 June), Greeks reportedly withdrew €1bn from cash machines on Saturday. The total amount of currency in circulation has risen above €45bn, in tandem with the escalation in deposit outflows.
A bank holiday has been imposed for the rest of the week with ATMs set to reopen tomorrow with a daily withdrawal limit of €60. In a bid to protect the tourist industry, this limit will not apply to visitors with accounts overseas.
It should be noted that things like deposit insurance, in place to prevent bank runs, no longer apply in the case of Greece. There may be the chance of getting money back later from the Greek government but you would have to join a queue of bearers of IOUs and it's looking more likely that what you get will not be denominated in Euros.
Cyprus
People queuing outside Greek banks has led to the most obvious comparison with Cyprus, which was forced to impose capital controls when deposits started haemorrhaging from Laiki, the second largest bank in Cyprus in March 2013.
As alluded to above, Greece has witnessed a far longer and more intensive deposit flight, spread over the past five years, than Cyprus did between 2011-13, or Argentina did in 2000-2001.
The early stages of the Cypriot programme included bank holidays and deposit freezes, plus a whole range of limits on domestic and international transactions.
But in Cyprus a new centre-right government implemented painful capital controls in the face of remarkably weak political opposition, and was able to pass on a big chunk of recapitalisation costs to foreign depositors.
There was strong domestic support for deep fiscal and structural reforms. Within months the programme came to be seen as a credible path towards banking solvency, liquidity and fiscal sustainability.
But the Cypriot headline was bank insolvency and depositor haircuts, whereas in Greece it is debt unsustainability.
One thing that's similar: after people have been told they are not allowed access to their money it takes a long time to undo that damage. Cyprus was only able to dismantle its capital controls two years after their imposition.
Democracy and austerity
Tsipras has set a public referendum on 5 July to let the Greek people decide if they want the austerity package his party rejected. A "YES" vote for the austerity package would certainly be viewed positively by markets as it would be seen as a vote for staying in the eurozone and against Syriza.
A "NO" vote, among other things, could mean that Greek depositors get wiped out, which would seem to be a good argument for voting "YES" – but one issue is that many Greeks have little in the way of bank deposits, so they may think they have nothing to lose by voting "NO".
Importantly, neither outcome will salvage the government's shattered credibility or pull the economy out of its recessionary vortex. 'Yes' to the troika's proposal translates to a prolonged period of instability (elections, fragmented political landscape).
Chris Scicluna, head of economic research at Daiwa Capital Markets, said: "The closure of the banks will have a highly damaging effect on what was already a very weak Greek economy.
"The cash squeeze on the Greek government is bound to intensify, meaning that domestic payment arrears are bound to mount further while public sector workers and pensioners might well have to be paid with IOUs as soon as end-July. That would likely represent the first steps to issuing a parallel currency."