Greeks have been queuing outside ATMs throughout the night after the government closed the country's banks and imposed capital controls amid the ongoing debt crisis.
Lines of people emerged outside banks throughout the country after a daily €60 (£40) limit was imposed on cash withdrawals on cash machines. There are reports of shrinking numbers of ATMs with cash available, with bank cash machines not set to reopen until Tuesday.
The Greek government has announced that its banks will be kept closed for a week until after the 5 July referendum, in which the public will vote on whether they accept the terms offered by international creditors. The Prime Minister, Alexis Tsipras, has called for an overwhelming "no" vote at the referendum.
The emergency measures were put in place after the European Central Bank (ECB) refused to increasing additional funding to the country. Greece must repay €1.6bn to the IMF before 30 June, the same day that the current bailout expires. The country now risks defaulting and leaving the eurozone.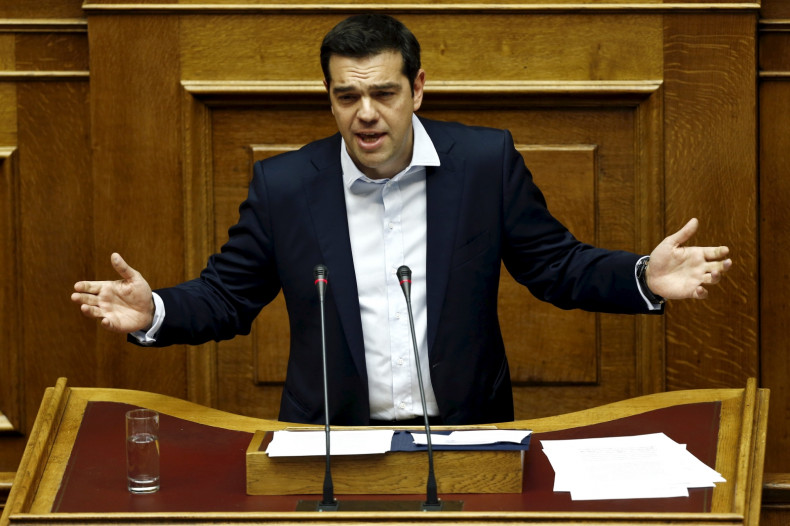 In his televised address, Greek Prime Minister Alexis Tsipras accused the eurozone and the ECB of trying to blackmail the will of the Greek people in hindering the democratic process of holding a referendum on the terms of the bailout.
He said he sent a short extension request to the president of the European Council and to the 18 heads of the state of the eurozone, as well as to the heads of the ECB, the European Commission and the European Parliament.
"I am awaiting their immediate response to this fundamentally democratic request," he said, adding that they are the only ones who can reverse the Eurogroup's decision and enable the ECB to restore liquidity to the banks.
The dramatic move in the Greek financial crisis has already been felt in early Asian trading, with the euro falling as much as 1.9% against the dollar.