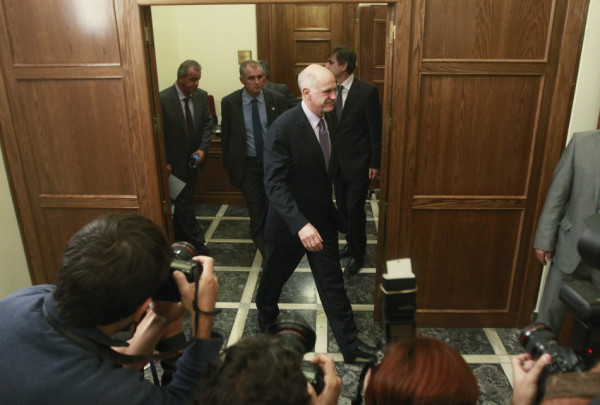 After 48 hours of political deadlock, Greece will name its new prime minster by the end of the day after the outgoing premier, George Papandreou, and opposition leader Antonis Samaras reached a consensus with President Karolos Papoulias Sunday evening.
Greece will be run by an interim coalition government involving the two main political parties with its sole mandate to implement a €130 billion bail-out package before elections are held early in the new year.
The new prime minster will have an economics background and will most likely be Lucas Papademos, a former vice president of the European Central Bank, or Stavros Dimas, a former European Union commissioner, who worked at the World Bank.
Uncertain future
The delay in announcing the decision has sent European markets tumbling with the German Dax and FTSE100 both falling 1 percent early Monday morning. Although the announcement of Papandreou's resignation came as a relief to many investors, the delay in appointing his successor has meant the country still faces an uncertain future, both short and long term.
Greece is set to run out of money by the middle of December unless it can ratify this next bailout package. But even more uncertain is its future within the European Union with opinion completely divided as to whether Greece should continue to survive within the single currency, or whether it should default. Political campaigns for next year's elections will debate this very question.
IMF Managing Director Christine Lagarde summed up the sentiment that international figures are faced with when she asked Greek Finance Minister Evangelos Venizelos: "What Greece am I talking to, the one who endorses reforms, who accepts austerity or the one who doesn't?"
For the first time at the G20 last week, French President Nicolas Sarkozy admitted Greece may have to leave the EU altogether to save the European project. He said: "We have said clearly that we want Greece to stay in the euro, but we cannot wish for this if she does not want it herself. We have to defend the currency ... we cannot accept the breakup of the euro. That would mean the breakup of Europe."
Despite the imminent appointment of a new prime minster in Greece, economists have warned the worst is to come with either more years of austerity cuts and further bailouts, or the risk of a Greek default.
One former Golden Sachs investment banker, who worked closely with the Greek integration into the euro, said: "I think they should default. But there is no telling where the bottom is should that happen."