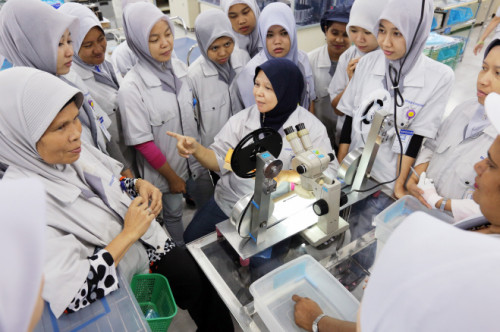 Apple has reduced the use of minerals sourced from conflict zones in its products and has seen underage labour cases decrease due to increased audits of its suppliers.
The iPhone and iPad marker has released its eighth annual supplier responsibility progress report, which notes that all of the 59 active tantalum smelters in Apple's supply chain have been validated as being "conflict-free" by third-party auditors from the Conflict-Free Smelter Program – the first time that Apple has been able to say this.
The report states: "The ethical sourcing of minerals is an important part of our mission to ensure safe and fair working conditions. In January 2014 we confirmed that all active, identified tantalum smelters in our supply chain were verified as conflict-free by third party auditors, and we're pushing our suppliers of tin, tungsten, and gold just as hard to use verified sources."
Warlord profiteering
Tantalum is a metal used in the production of capacitors and some high-power resistors which are found in a wide range of electronics, and in recent years activists have pointed out that warlords are profiting from the sale of this mineral, for example in the Democratic Republic of Congo.
While 23 other smelters have given their consent to be audited too, Apple has publicly named 104 suppliers of gold, tin and tungsten that do not comply with ethical guidelines.
The suppliers are mostly located in China, Russia, Indonesia, Japan and South Korea, as well as several smelters from other countries in Europe and South America.
Greenpeace, which has been critical of Apple in the past over clean energy and environmental policies, has praised the electronics giant for reducing its use of conflict minerals.
"Apple's increased transparency about its suppliers is becoming a hallmark of Tim Cook's leadership at the company," Greenpeace Energy Campaigner Tom Dowdall said in a statement.
"Apple has flexed its muscles in the past to push suppliers to remove hazardous substances from products and provide more renewable energy for data centres, and it is proving the same model can work to reduce the use of conflict minerals."
Child labour cases falling
Apple has also improved labour conditions for workers who make its products in supplier factories, many of which are located in Asia, auditing a total of 451 factories.
The company has increased the number of suppliers that offer educational training for workers, as well as training into their rights and responsible practices such as Apple's code of conduct and occupational health and safety.
The latest report shows that child labour has fallen. Auditors only found 23 underage workers (11 active cases and 12 historical cases of children under the age of 15 working in eight facilities), compared to 74 underage workers in 2013 and over 100 cases in 2012.
Apple said in the report that the underage workers had been hired illegally by third-party recruiters, without the knowledge of the suppliers, and Apple makes the suppliers put the underage workers back in school, pay for their education and provide for them financially while they are in school.
Suppliers are now 95% compliant with the 60-hour work week, compared with 92% compliance in 2013, and Apple has been cracking down on suppliers that use sub-agencies which require workers from other countries to pay high recruitment fees.
Since 2008, Apple has made its suppliers have reimbursed a total of US$16.9 million in excessive recruitment fees to contract workers, including US$3.9 million in 2013.