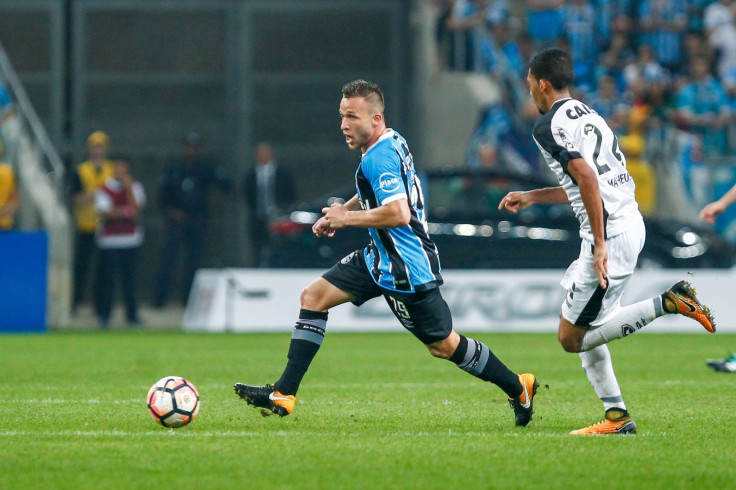 Barcelona have moved a step closer to complete the signing of Arthur Melo with Gremio president Romildo Bozan confirming that the transfer "is reaching the final phase" and that ongoing negotiations between the clubs are "very positive".
The 21-year-old-midfielder has been poised to move to the Nou Camp since being photographed with a Blaugrana shirt alongside club technical secretary Robert Fernandez after the Catalans' chief travelled to South America to watch him in action during the two-legged Copa Libertadores final between his side and Lanus.
Last month, Sport later reported that Fernandez made another trip to Brazil where he met with Gremio officials and reached an agreement in principle over a deal which could rise to €40m (£35.6m, $49.5m) with add-ons.
The Spanish publication said that Barcelona would pay €30m plus €10m extra in variables after agreeing to keep the midfielder at his parent club until the January transfer window of 2019.
Over the weekend officials from Gremio arrived in Spain to iron out the terms of that deal.
"We are waiting to know the time but we will meet with Pep Segura and Òscar Grau," Gremio chief-executive Carlos Amodeo confirmed to Mundo Deportivo on Monday (5 March) from his hotel in Barcelona.
"We had good harmony in the meetings [with Robert Fernandez] in Brazil but there is some points to discuss with them. The transfer would be for January 2019, there would be no clause that would allow [Barcelona] to advance the signing of Arthur for this summer."
Chelsea, Manchester United [Daily Mail] and even Real Madrid [Marca] have also been linked with Arthur in recent times but the player made it clear his intentions earlier this week, admitting that he is "anxious" to complete the move Barcelona.
"I'm anxious to go to Barça. Of course the situation generates anxiety. It's normal, but I've got my head in place. I've brought my family to be with me, it's an important moment and nothing's better than having your family by your side," Arthur said during Fan Day event with Gremio supporters as quoted by Sport.
"Now we have to wait. I am sure that everyone is working hard so that the situation has a happy ending. Everything is in the hands of the two clubs, I am convinced the deal will be good for all parties, that's the most important thing."
The negotiations between the clubs continued with Mundo Deportivo suggesting on Wednesday (7 March) that there have been a delay due to a disagreement over when to make the payments
Yet, the report says that Gremio are asking to receive at least a part of the €30m agreed now with Barcelona keen on delaying the initial payment until July as Arthur won't join them anyway before January 2019.
But Gremio president has now suggested that those minor difference will be sorted out after admitting that a final agreement is now close.
"The topic is on its way to being finished. The documents are not signed yet, but the transfer is reaching the final phase," Bolzan said to Fox Sport as quoted by Sport.
"100 per cent agreement is not there yet but the situation is very positive. As happens in these cases, there could be some late alterations. The operation will be for around the numbers that have been published in recent days."