The AFC Champions League game between Iranian side Sepahan and Saudi Arabia's Al-Ahli didn't produce any goals, but the game certainly produced one explosive moment.
Following an Al Ahli corner, the referee temporarily stopped the game as a series of missiles and other debris were thrown onto the pitch at the Foolad Shahr Stadium in Iran.
During the halt in proceedings, a number of Sepahan players came over to help remove objects from the playing field, including midfielder Adel Kolahkaj.
Kolahkaj was captured on film picking up a black object and casually throwing it off the pitch. The object exploded the moment it hit the ground, almost immediately after leaving the player's hand.
Fortunately nobody was standing in the spot where Kolahkaj threw the explosive device and nobody was injured in the incident.
Early suggestions said the explosive device may have been a grenade, but the size of the blast and the fact the players and referees were not injured despite standing just a few feet away suggest it may have been a firecracker or firework.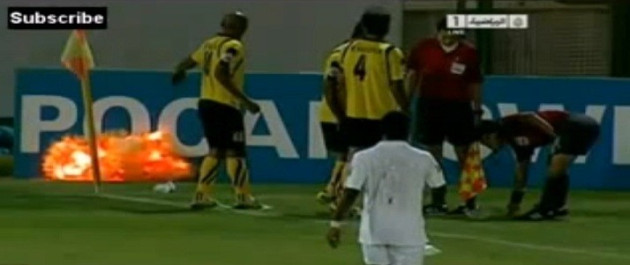 Amazingly the game was allowed to continue following the explosion and the incident didn't even get a mention in the Asian Football Confederation's write up of the match.
Police are now investigating the incident.