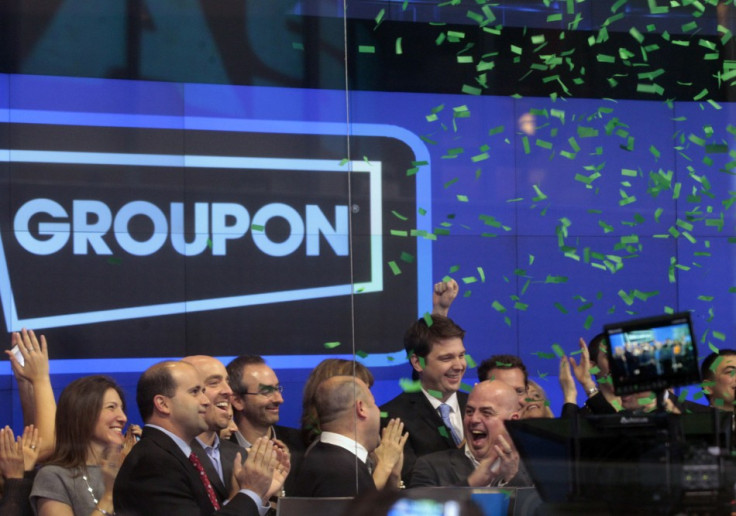 Predictions of a 'Tech Bubble 2.0' may well be exaggerated, as Groupon's share price plummets just weeks after the group-buying website went public to a positive reception.
Within minutes of appearing on the stock market, Groupon saw its share soar from $20 (£12.80) to $29.20, but now the price is falling, closing at just $15.24 on Monday.
Monday November 28 saw a 9.01 per cent fall in Groupon's share price, despite the Nasdaq being 3.5 per cent up on the day, and now the total loss for the website is at 41.63 per cent since going public on November 4.
Dom Reisinger writes in CNET: "The issue is, Groupon has never been profitable. Last year, for example, the company lost $390 million (£250m) on $313 million in revenue. So far this year, its revenue has jumped considerably to more than $1 billion over the first three quarters, but it has still lost $308 million over the same period."
Groupon is a daily deals website, where companies post offers on products and if enough users request the product, then they get it at the heavily discounted price.
Analysts at Wall Street Equities Research said last week: "There has been concern that the company's revenues are not sustainable amidst growing competition in the sector and a weakening economy that could have an impact on consumer spending."
The news of Groupon's struggle share price comes in the same week that the Wall Street Journal reports that Facebook will soon reveal its Initial Public Offering (IPO) in the region of $10 billion, giving the company a value of $100 billion.
This would be the 13th largest public offerings in history and the third biggest in the U.S. if it were to go ahead.
Groupon may have a shaky future, too, as Reising explains: "When stocks have smaller floats, they are typically more volatile and react to the changing market.
"What's more, after the mandatory 180-day lockout period that restricts company employees and early investors from selling the company's stock, it's quite possible its share price could plummet when workers start cashing in on their stock options."