Guardiola: Sir Alex Ferguson Will Decide Successor
Guardiola plays down Manchester United rumour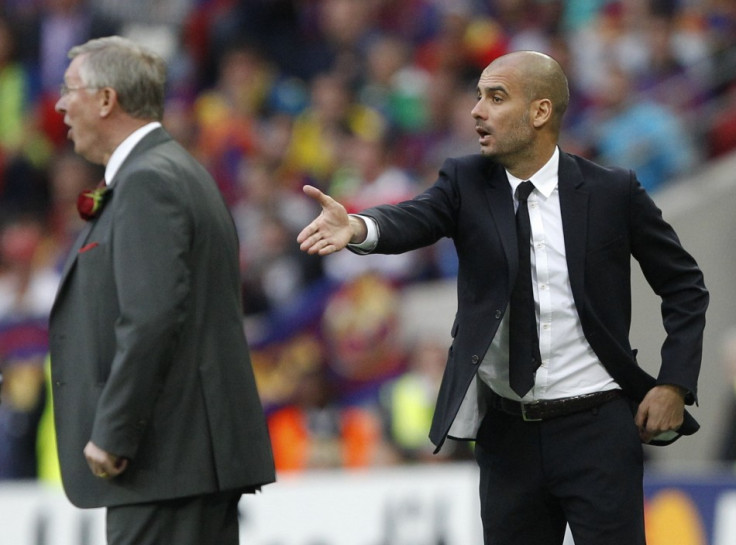 Barcelona coach Pep Guardiola has played down reports linking him with a move to Manchester United as a possible successor to Sir Alex Ferguson.
The Scot recently suggested he wanted to remain at Manchester United for a further "three years" yet the remaining time of his tenure continues to be debated.
Guardiola has won 13 of the last 16 trophies available to him at Barcelona and were the aforementioned Manchester United supremo to call time on his illustrious career, the Catalan icon would inevitably be one of the leading candidates championed as an heir at Old Trafford.
The Barcelona coach remains on a one-year rolling deal which inevitably leads to plenty of speculation regarding his future at the Nou Camp around this time of year. Despite being coy on his intentions, the 40-year-old believes Ferguson still has "many more years" at Manchester United.
"I am sure he [Ferguson] will decide the ideal person [to replace him]," Guardiola said at a press conference on Tuesday when asked about rumors of a possible move to Manchester United.
"But the important thing is he will go on for many more years yet."
While Guardiola's future remains relatively uncertain, Ferguson celebrated his 70<sup>th birthday by claiming he had no intention of leaving Manchester United in the near future. The Scot intimated he had a few years left at Old Trafford despite plenty of speculation regarding possible successors.
"I think I've got three years at the club," The Manchester United manager told United Review. "As long as my health stays up, and as long as I'm still enjoying it and still getting the satisfaction of the team doing its best.
"This time it is a milestone birthday and I suppose inevitably, Manchester United supporters are going to ask if a man of 70 is up to managing this great club,
"As someone who loves his job I am not about to let my years alone dictate my future. At my age health becomes the key issue for a man's work and I am happy to say I have been blessed with stamina and energy that sees me coping with what I admit is a very demanding job."
In addition to Guardiola, Real Madrid manager Jose Mourinho has also been strongly linked as a superb candidate to replace Ferguson at Manchester United.
The self-proclaimed 'Special One' and the long-serving Manchester United boss are good friends and the latter has regularly suggested the Portuguese ace would have to be considered for the post if and when a succession plan is drawn up.
© Copyright IBTimes 2023. All rights reserved.