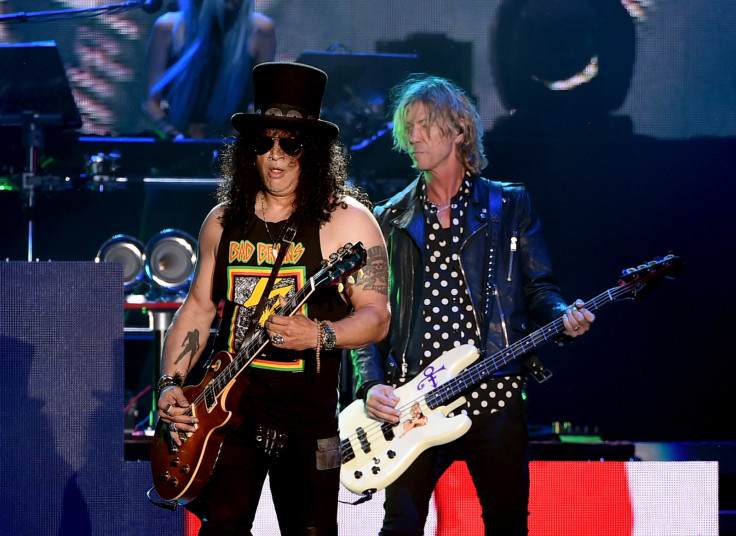 Legendary rockers Guns N' Roses will be heading overseas in 2017 as the band have extended their Not In This Lifetime tour. Axl Rose, Slash and co. will now perform a string of shows in Europe, Asia and Australia following an incredibly lucrative leg in North America which has grossed more than $100m (£77m).
The Sweet Child O' Mine hitmakers will launch their new tour dates with a show in Osaka, Japan on 21 January before moving onto New Zealand, Australia, Singapore, Thailand and Dubai throughout February until March.
Fans in Europe will have to wait until 27 May when Guns N' Roses perform in Dublin, Ireland and later Spain, Portugal, Italy and Germany to name a few. The band will also play the brand new London Stadium on 16 June where it is expected they will perform for up to 80,000 fans. Tickets go on general sale from 10am on Friday 9 June via Live Nation.
Before performing to the masses again in 2017, Guns N' Roses are enjoying a break for the Christmas holidays after wrapping up the Latin American leg on 30 November in Mexico City. After their incredibly successful run across North America in 2016, it is no surprise the band will return to their home turf for another leg in July 2017.
In September, it was revealed that the rockers had brought in a staggering $116.8m after playing to more than one million fans across 21 stadium shows. According to Live Nation, Guns N' Roses managed to shift two million tickets for their comeback jaunt.
The European tour announcement has added fuel to the rumours that Guns N' Roses will headline Glastonbury 2017, taking place between 21 and 25 June, due to a gap in their touring schedule. Addressing the possibility of the band headlining Worthy Farm, a spokesperson for bookmakers William Hill previously said: "After yet another successful Glastonbury, all thoughts will already be turning towards 2017's festival. It's likely that a couple of recently reformed bands – Guns N' Roses and The Stone Roses – may be headlining the Pyramid Stage next summer."