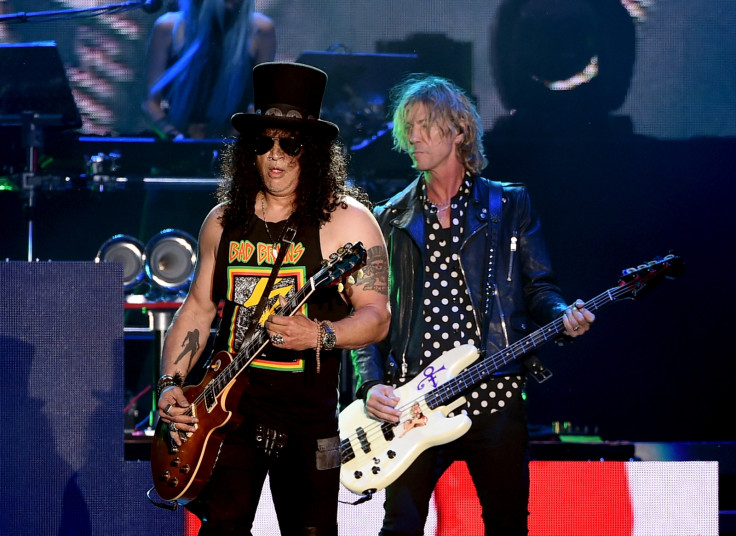 Guns N' Roses were booed by their audience at a Melbourne concert after mistakenly giving a shout-out to Sydney. Band members Axl Rose and Slash have now issued an apology after the embarrassing blunder.
Moments before the rockers hit the stage at Melbourne Cricket Ground on 14 February, their announcer, McBob, addressed the wrong city. The guitar technician said: "Sydney, you wanted the best but they're stuck in traffic, so here's what you get." Immediately after McBob mentioned Sydney, the insulted crowd erupted into a chorus of boos.
The American rock band did not address the flub during the show but they did tweet an apology from the main Guns N' Roses Twitter account. The message read: "Melbourne! Accidentally after 30 years McBob made an error, we're truly sorry. Thank you for coming out tonight!"
Frontman Axl Rose added: "Melbourne! Didn't notice r intro yday. R sincere apologies!! Really amazing crowd! McBob feels horrible," while Slash quipped: "Melbourne, thank you for an awesome f*****g evening! Apologies for the Spinal Tap intro! But, we had a great f*****g time tonight! Cheers!"
Guns N' Roses, who last performed in Melbourne in 2013, brought their Not In This Lifetime tour down under in January. So far, the band have performed two nights – in Brisbane and Sydney, no less – in addition to the Melbourne show. The jaunt, which also took in New Zealand, continues at the Adelaide Oval on 18 February before wrapping up with a grand finale at the Domain Stadium in Perth on 21 February.
The lucrative tour will then visit Asia and Dubai before beginning an extensive UK and European leg in May. Guns N' Roses have won positive reviews for their performances so far and have drawn in over $117m from their North American leg. The trek marks the first time that members Axl Rose, Slash and Duff McKagan have shared the stage together since the early 1990s.
Watch Guns N' Roses get booed in Melbourne: