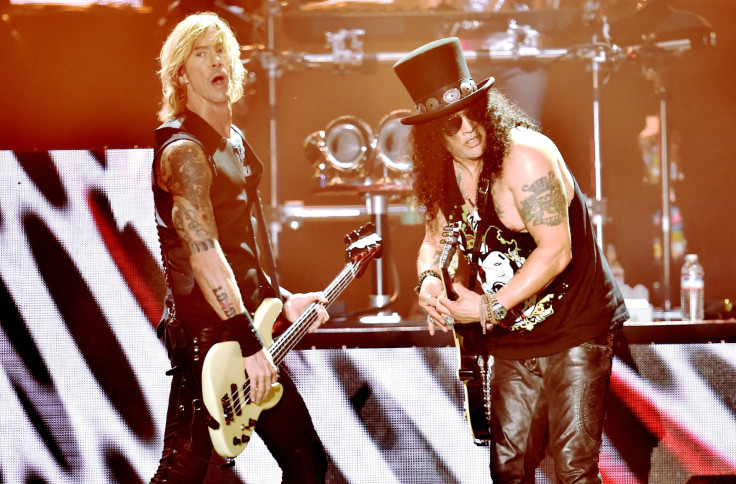 Guns N' Roses may be pulling in the big bucks on their current tour but the rockers are not motivated by money, according to the band's guitarist.
Axl Rose, Slash and co have extended their Not In This Lifetime tour to visit Europe, Asia and Australia in 2017 – after grossing more than $100m from the North American leg this year. While the Sweet Child O' Mine rockers are clearly able to attract healthy ticket sales, Guns N' Roses guitarist Richard Fortus insists the band are not in it for the pay cheque.
Fortus told KSHE radio station: "No. Axl has been going on, on time for years before [the reunion]. It's been great. Is [money] the motivating factor for him? Absolutely not. I've never seen the guy motivated by money, as I've known him. Otherwise, this reunion would have happened a long time ago."
It has also been suggested that Slash, 51, was keen to perform live shows to boost his finances in the midst of his divorce from estranged wife Perla Ferrar. Dismissing this notion, Fortus added: "I don't know. Honestly, I don't think [money] was a motivating factor for anybody, other than the stars just seemed to align. We didn't have a bass player, we didn't have a guitar player. Really, that's how it sort of happened."
After wrapping up the US leg in November, Guns N' Roses, also consisting of Duff McKagan, Dizzy Reed, Frank Ferrer and Melissa Reese, will launch their Asian stint in January with a show in Osaka, Japan. The Knockin' On Heaven's Door rockers will then head over to Europe in May to play dates in Ireland, Spain, Italy, Switzerland, France and Israel.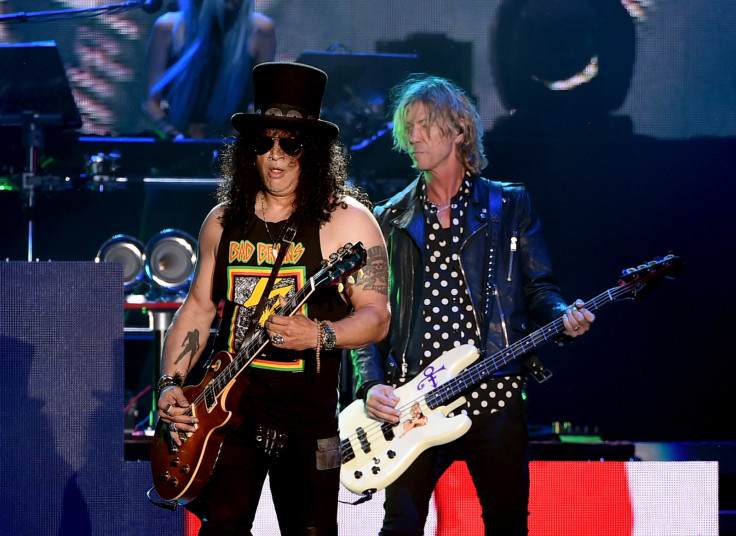 A date is also set for the brand new London Stadium on 16 June. Tickets go on sale from 10am on 9 December. The tour has already provided some momentous moments with Axl Rose reuniting with his original bandmates Slash and McKagan onstage for the first time in 23 years.
Although their schedule is booked up for most of next year, fans should expect to hear new Guns N' Roses music in the New Year. In his interview, Fortus teased: "We are messing with ideas every day. I mean, every day we do at least an hour soundcheck, and we'll play through different ideas, like new ideas, put stuff down on tape. It's really organic. And it happens... Same in rehearsals – we were always putting down different ideas and getting stuff together and getting ready for that, yeah."
Watch Guns N' Roses 2017 tour trailer: