Ewan McGregor raised eyebrows at the 2018 Golden Globes when he thanked his estranged wife Eve Mavrakis and his girlfriend Mary Elizabeth Winstead during his acceptance speech.
The 46-year-old Scottish star won the award for best performance by an actor in a limited series or motion picture for television for his role in Fargo. Despite his turbulent personal life making headlines in recent months, he still decided to take a moment to acknowledge two of the most important women in his life.
He started off with the 51-year-old production designer Mavrakis, who he married in 1995 and separated from in May 2017.
"I want to take a moment to just say thank you to Eve, who always stood by me for 22 years," he said before adding: "and our four children, Clara, Esther, Jamyan and Anouk."
He then went on to pay tribute to his Fargo co-star Winstead. "I've always loved being an actor and I love hanging out with actors and I got amazing actors to work with on this. There wouldn't be any Emmit Stussy without David Thewlis and Michael Stuhlbarg and Carrie Coon, and there would've been no Ray without Mary Elizabeth Winstead so thank you very much."
The pair went public with their controversial romance in October 2017. The Trainspotting actor is 14 years her senior.
Golden Globes viewers took to Twitter with some branding McGregor's speech as a slap in the face to his estranged wife.
"Ewan McGregor using his speech to thank both his mistress AND his wife he left for her is... gutsy" one user wrote.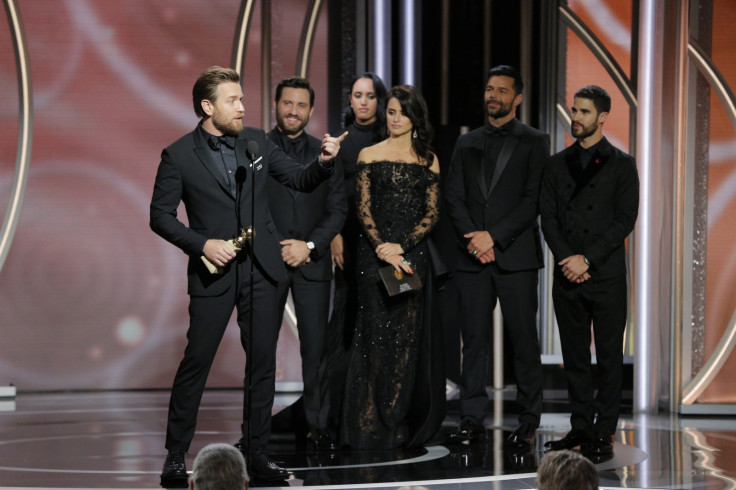 Another said: "WOW. Ewan McGregor just thanked his wife AND his girlfriend in his #GoldenGlobes speech... on a show that's been all about female empowerment @KatePeople.
Mavrakis revealed the extent of her despair on learning about her husband's relationship with Winstead when a fan sent her a message on Instagram which read: "I can't believe Ewan would end things with u for that cheap xxxxx! U are so much better than him!!!! Take him for every penny u can!!!!"
She simply replied, "What Can I Do?"
While Mavrakis may have appreciated a shout-out at the end of 2017, she has made it clear that McGregor is no longer a part of her life and she is making a conscious effort to move on from her failed marriage.
Earlier in January, she shared a family snap sans McGregor. Instead, she posed with the couple's four daughters in blue water with an exotic island providing the perfect backdrop.
"This will be our Christmas/New Year card. Happy 2018!" the accompanying caption read.
"I am so thankful for my loving, caring girls. Happy, peaceful and adventurous New 2018 to all my friends and family."