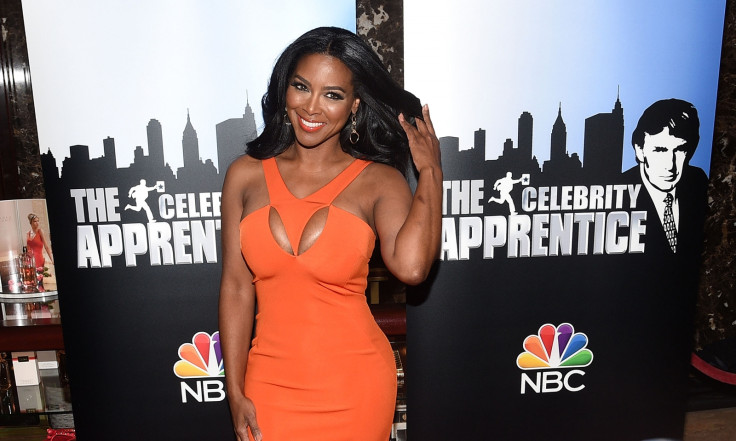 Bravo star Kenya Moore has revealed that she was stabbed and was nearly killed by her abusive ex-boyfriend when she was a teenager on the 7 January episode of Real Housewives Of Atlanta season 10.
Alongside Moore, other reality stars Sheree Whitfield, NeNe Leakes, Kandi Burruss, Cynthia Bailey and Porsha Williams came together to film a public service announcement (PSA) about the dangers of domestic violence.
The former Miss USA recalled her near-death experience when was only 16. She said, "When I was 16 years old, I dated someone who was 11 years my senior. It turned out to be a very physically abusive relationship to the point where I was stabbed, nearly killing me."
"Knowing that this day in age — 20, 30 years later — it's still occurring. I really wanted to do something about it," she said.
The Atlanta Housewives wore white for the PSA, which was produced by Moore and shot (in black and white) by director Derek Blanks. The reality star said, "I decided to produce a PSA on domestic violence to help spread the word on this important issue. When it comes to domestic violence, you don't have to look very far to find someone who has been adversely affected by it."
Another housewife, NeNe Leakes also had her own abusive story to share. "I was abused very young. I was dating a guy that was the first guy that ever said I love you. And I took when he said 'I love you' to heart. Like, 'This is love!' And even when he hit me, I thought, 'This is love.' "
"I stayed in that abusive relationship for really a long time. I ended up having a child from that relationship. And eventually, I was able to get out," The New Normal star confessed.
Burruss, Bailey, Whitfield, Leakes and Moore also came together at the end to tell audiences, "There is no excuse for abuse."
Whitfield is proud of what they are doing today. She said, "I know how important this is, and it's passionate and something that means a lot to me too. It's always been so difficult for me to talk about this too, and I never wanted my past or my experience to be public."
"But over the past year I've dealt with this with ways that can help my kids and other people. And I'm so proud that we're here doing this today."
The Real Housewives of Atlanta airs every Sundays at 8 pm EST on Bravo.