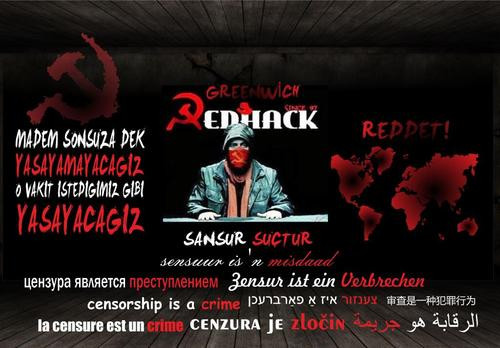 Hacktivist group RedHack has published over 600 records relating to Turkish government officials after breaching the security of the biggest internet service provider in Turkey.
RedHack has claimed it has also breached the security and obtained customer data from mobile operators Vodafone and TurkCell which it is threatening to release in the coming days.
RedHack is a Turkish, Marxist-Leninist hackers collective which was established as far back as the late 1990s. It typically uses "defacement hacking" to "raise awareness of the poor against the elite that tries to strip our rights and freedoms" according to the group's website.
The details released today are from TTNET, Turkey's largest internet service provider with seven million customers. However, the group has selected to release only details relating to government officials including members of the National Intelligence Organisation, the General Directorate of Security, and various other ministries.
Matter of principle
The group has posted the details online including names, ID numbers, phone numbers, email addresses, billing addresses, and service package details.
In a statement to Softpedia, a RedHack spokesperson said: "Ordinary public membership details will not be shared as a matter of principle. In the coming days we'll continue with those exploiting the country. No public information will be shared. Our people can be at ease."
The group is now working through the data it claims to have stolen from Vodafone and TurkCell, and says it is targeting anyone who "commits injustices" especially those in the security forces, military, intelligence and government.
"[The] purpose of this action is to prove no one and no system is 100% secure," the hackers noted.
Target
The attack has been dedicated to Ali Ismail Korkmaz, who was killed during the Gezi protests last June.
RedHack has been a target for the police in Turkey for many years but the authorities have so far failed to track down the group.
In May, 2012, the cyberactivist group attacked the websites of milk companies following a scandal in which hundreds of children were poisoned by state-distributed milk in schools.
Just last month the group once again breached the TurkCell security and released the phone numbers of more than 4,000 individuals who worked there.