Oscar-nominated war drama Hacksaw Ridge is likely to make anyone who sees it feel inspired. Based on a true story, it follows real-life pacifist Desmond Doss, who, plagued with guilt over not serving his country, enlists as a Second World War medic and joins the Allied forces in their assault on Okinawa, Japan and ends up risking his own life to evacuate the wounded from behind enemy lines.
Extraordinarily, he managed to save 75 men atop of that cliff face on those fateful days back in 1945, so it's easy to see why the film would have a thought-provoking and lasting effect on anyone who views it on the big screen. Someone who was already very familiar with the events is Doss's son, Desmond Doss Jr, who recently opened up to IBTimes UK on how he felt watching Hacksaw Ridge for the first time, why Mel Gibson was the perfect director for the project and why it resonates so strongly today...
IBTimes UK: So, how did the film come about?
Doss Jr: My dad had two requirements for those interested in telling his story. The story could not be fictionalized, and it must give glory to God. From my earliest memory, I watched an endless stream of writers, producers, and movie-makers, course through the house. Each was turned down, because they could not comply.
Before he died, my dad charged The Doss Counsel, an agency of his church, to continue and uphold that standard. A producer and member of the church, Terry Benedict, subsequently made a documentary, followed by an interest in making a secular movie.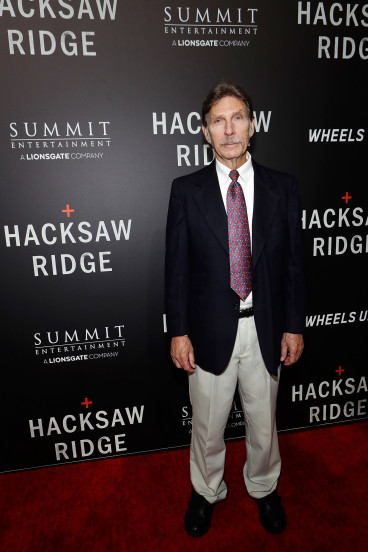 Were you approached along the production process?
No, I had no idea that a secular film was in production, until just before its release. For reasons that are as yet unclear to me, The Doss Counsel (who holds all the intellectual and financial rights to my father's story) perpetuated the idea that my father and I were estranged, and that I had no interest in him or his story.
Nothing could be further from the truth. When Mel Gibson and Lionsgate discovered that the rumour was patently untrue, they immediately brought me on board.
Why do you think Mel Gibson was the right film-maker for the job?
Hacksaw Ridge is a signature work of Mel Gibson. It has all the graphic violence and carnage required to show the inexplicable contrast of love, compassion, forgiveness, and acceptance, despite the most unimaginable of circumstances.
What did you think of the movie when you first saw it? Of course, you were much closer to the story than other viewers, did it move you in a way you hadn't necessarily expected?
I sat down to watch a movie. They said it was about my dad. I was in no way prepared for what I saw. A home where conflict often existed. A young boy, his character being formed, sometimes by trial and error, always supported by his mother. I could feel the love that would shape and influence him for the rest of his life.
I sat in amazement as the images portrayed my mother and father in a time before I was born, falling in love, struggling with the prospect of being apart, and standing together in dire adversity. The incomprehensible choices my father faced because of his convictions, the unimaginable conditions on the battlefield, the absolute grit and determination required to rescue his fellow soldiers, all played out on the screen.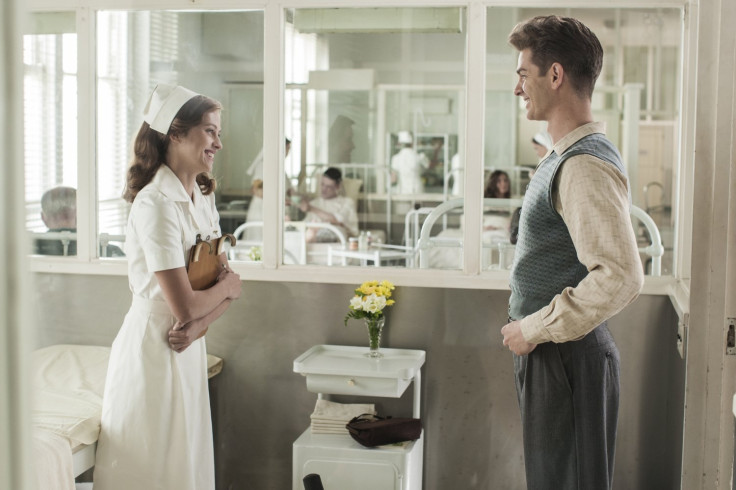 I knew these stories by heart, could recite them verbatim, but this was different. Now, in living colour these events unfolded before my very eyes. The actors so closely resembled the people I loved, that at times I felt that I was actually seeing my mom, and enjoyed moments of intense closeness.
I came away with a new appreciation for my father, who he was, what he stood for, the incredible love that drove him. I could not hold back the tears. What I saw was a true love story.
Why do you think now is the right time to tell your father's story?
There is no shortage of things to fight over, and people to do the fighting. My father is often said to be patriotic, and patriotic he was. But there are people we don't like right now, doing all sorts of despicable acts, and they say they are patriotic too.
I hope people see, what drove my father, was not patriotism, religion, or philosophical ideas. What drove my father was his compassion, and unconditional love for his fellow human beings.
Lastly, what do you think of the film receiving six Oscar nominations?
The men and woman that worked tirelessly for years to bring this to fruition, the cast and crew, the producers, all deserve to have their great effort and endless energy recognized, as only an Oscar can.