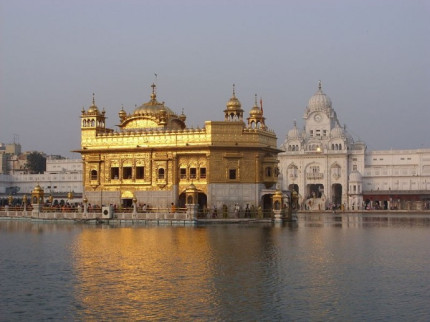 Foreign secretary William Hague's attempt to draw a line under Britain's involvement in the fatal storming of India's sacred Amritsar Temple in 1984 appears to have failed to end the controversy.
Hague made a statement to MPs confirming that the government of Margaret Thatcher had dispatched a single military adviser to India after an urgent request for assistance to end the siege crisis at the temple.
He said that had been months before the "Operation Blue Star" storming of the temple, which had been occupied by Sikh separatists, with the loss of hundreds of lives. And, he insisted, the UK advice had only a "limited impact" on the operation.
He also dismissed any suggestion that the advice had been linked to UK defence sales to India and he resisted Labour calls to apologise for Britain's role, no matter how limited it had been. He said the country should only apologise for something it was responsible for.
Hague was reporting back to MPs after an official Whitehall inquiry was launched on the release of secret papers about the Amritsar affair under the 30-year disclosure rule.
It has been a source of continuing controversy to the Sikh community, including the large number in the UK, and it was clear that the inquiry had failed to answer all their concerns increasing pressure for the release of other documents.
While 575 deaths were reported at the time, as many as 3,000 people were likely to have been killed, including pilgrims "caught in the crossfire", said Hague.
He said the British military adviser had suggested using helicopters as part of a surprise assault in a bid to keep casualties low. The suggestion was not adopted in the final assault.
No equipment or training were offered and the Indian plan changed significantly in the next three months, he said.
A few months after the massacre, Indira Gandhi, India's then prime minister, was assassinated by two Sikh bodyguards in what was regarded as a revenge attack.
But chairman of the Sikh Federation, Bhai Amrik Singh, wrote to David Cameron to criticise the investigation.
"It appears the review has looked at a narrow period and not covered the period in the latter half of 1984 [when the operation took place] and may not have addressed some of the concerns raised by UK politicians in the last three weeks," said Singh.
"From the outset you have emphasised the need for transparency, but the significant delay in sharing the terms, and that they appear to have been changed for political reasons, does not bode well with such assertions and your emphasis on the speed of the review."
Shadow foreign secretary Douglas Alexander said there were still questions and that further documents should be released.
"The pain and suffering still felt by many about the tragic events of 1984 places a particular duty on the government to provide what answers it can to address very genuine concerns," he said.