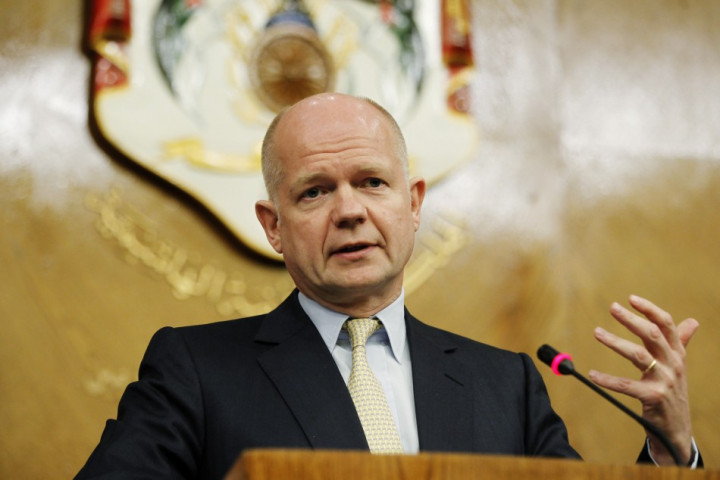 William Hague's two-day round of talks in Jerusalem have got off on the wrong foot, with Britain's foreign secretary facing sharp criticism from a senior Israeli cabinet minister.
A few hours before Hague crossed the famous Allenby Bridge between Jordan and the West Bank, Yuval Steinitz, Israel's intelligence and strategic affairs minister, claimed Britain's foreign policy towards the Jewish state is influenced by a "disguised anti-Semitism" which he believes is widespread in the UK.
A close ally to Israeli Prime Minister Benjamin Netanyahu, Steinitz questioned whether Britain was still a friend of Israel and warned Hague against lecturing the country on Jewish settlements in the West Bank.
"I think those allegations about the settlements are fundamentally wrong. To come to Israel and say why you are doing this and this, this is totally wrong," Steinitz told The Telegraph.
Hague has often condemned the development of new settlements in the West Bank, claiming Israel's expansion policy is draining support across the international community.
"We are concerned about the [UK - Israel] relations, about what we see as some animosities, some incitement in Britain, in the media, made by NGOs against Israel," said Steinitz, who has been widely tipped as Netanyahu's preferred choice to take the foreign office seat left vacant by Avigdor Lieberman.
Specifically, Steinitz pointed at the decision by renowned British physicist professor Stephen Hawking to withdraw from a conference hosted by Israeli president Shimon Peres in Jerusalem in protest against the country's treatment of Palestinians.
Steinitz's criticisms have been rejected by the UK Foreign Office.
"We don't recognise the description of our relationship from Minister Steinitz," a FCO spokesperson told IBTimes UK. "We see a bilateral relationship going from strength to strength, with unprecedented cooperation on science, cyber and security.
"And far from boycotting Israel, our universities and academics are working closer together than ever. That's why today the Foreign Secretary is signing a science agreement with Israel that guarantees our collaboration even further over the next few years.
"Israel is a friend and key ally to the UK and this trip will reinforce that bond."
Hague arrived in Jerusalem from Jordan, where he attended a meeting of the Friends of Syria alliance in Amman.
The foreign secretary is to hold talks with Netanyahu and Palestinian President Mahmoud Abbas in a concurrent effort to restart peace negotiations with US Secretary of State John Kerry, who is also in Jerusalem.