Saudi Arabia's most senior religious leader, the grand mufti, has said the stampede that killed more than 700 people at the annual Hajj pilgrimage to Mecca was "beyond human control". The disaster, on 24 September, was the deadliest incident to occur during the annual pilgrimage, which welcomes around two million Muslims, in 25 years.
Grand Mufti Sheikh Abdul Aziz bin-Abdullah al-Sheikh told the interior minister, Crown Prince Mohammed bin Nayef, that he was not to blame for the tragedy – which took place at the ritual known as "stoning the devil" in Mina, about two miles from the holy site in Mecca, Islam's holiest city. The Saudi government has faced criticism from a number of quarters, most notably Iran, for its handling of the tragedy.
The cleric was visited by the crown prince, who is also deputy prime minister and chairman of the Supreme Hajj Committee, on 25 September, said the official Saudi Press Agency (SPA). "You are not responsible for what happened," the grand mufti said.
"What happened is not his responsibility [the crown prince] because he exerted great efforts and what happened was out of the control of humans." King Salman has ordered a safety review of the site following the incident.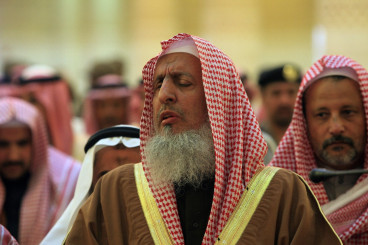 Iran's Supreme National Security Council accused Saudi Arabia of "incompetence" and urged it to "take responsibility" for the deaths. At least 131 Iranians were confirmed dead in the tragedy and Prosecutor General Sayed Ibrahim Raisi said Iran would seek the trial of the Saudi royal family over its "crimes" in "international courts", according to the Isna news agency.
The cleric's remarks came after the Foreign and Commonwealth Office (FCO) said it is "urgently seeking information" about the whereabouts of some 160 British Muslims who have not been heard since the incident on 24 September. The groups were in four groups of around 40 each, all from Wales.
Two groups from Newport, one group from Cardiff, and one group from Swansea have also lost touch. Estimates suggest some 20,000 British Muslims have made the pilgrimage to Mecca in 2015.
Nations across the globe have been affected, with Morocco losing 87 citizens, Cameroon at least 20, Niger at least 19, India, 14, Egypt, 14, Chad, 11, Somalia, eight, and Pakistan, seven.
The crush occurred when the two million pilgrims were taking part in the Hajj's last major rite by throwing seven stones at pillars called Jamarat, standing at the place where Satan is believed to have tempted the Prophet Abraham. Two lines of pilgrims were said to have met at an intersection close to the five-storey Jamarat Bridge.
It is the second disaster to strike the area in September after a crane collapsed at the Grand Mosque in Mecca, killing 109 people. If you are worried about friends and family involved in the crush call 020 7008 1500.