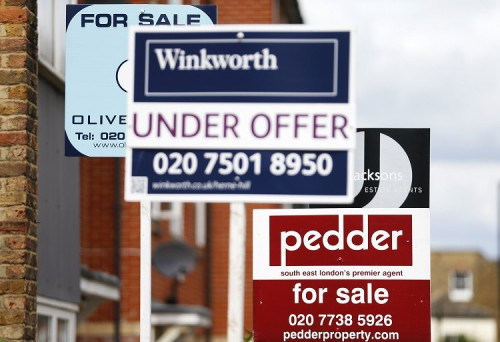 As UK house prices leap there are more homeowners who think selling is a good idea than those who think it is a bad time to put their property on the market, according to Halifax Building Society.
Prices have been pushed up by soaring demand as mortgages become cheaper and easier to get hold of because of the controversial Help to Buy scheme.
Supply is also severely constrained, with less than half of the required housing starts in 2013 to match demand in the market.
Halifax said in its fourth quarter Housing Market Confidence Tracker that 51% of homeowners thought the coming 12 months would be a good time to sell, against 39% who thought it would be bad. It is the first time since the tracker started in April 2011 that the majority have backed selling.
Furthermore, with mortgages more readily available in light of the Help to Buy scheme 63% of survey respondents said the coming year would be a good time to buy, against 28% saying it would be bad.
"The recovery in the housing market during 2013 has resulted in a significant improvement in sentiment towards selling a property in recent months," said Martin Ellis, housing economist at Halifax.
"This shift could provide a much needed increase in the supply of properties available for sale on the market during 2014, which would help to constrain upwards pressure on house prices."
He added: "Whilst sentiment towards the residential property market has improved across the country, significant regional differences persist. The proportion thinking that it will be a bad time to sell continues to exceed those thinking it will be a good time in several parts of the country."
Official figures show UK house prices rising on average by 5.5% in the twelve months to October. In London alone this increase was 12%.
Under Help to Buy, first-time buyers are offered an interest-free government equity loan worth up to 20% of a newbuild property's value to bring down borrowing and deposit costs.
The second part of the scheme, which launched in October, sees banks offered a government guarantee on their mortgage lending for a small commercial fee.
This has seen a number of high loan-to-value mortgages on offer from participating lenders, with deposit requirements as low as 5%.
Prime Minister David Cameron unveiled data from the first three months of the guarantee showing that 6,000 people had been helped to secure mortgages worth almost £1bn.
"The new year is often a time when people look to make those big life-changing decisions like moving home or taking that first step on the housing ladder," said Cameron.
"But too many people have found themselves frozen out of the market in recent years as a result of the size of the deposit required.
"That is why as part of our long-term economic plan we introduced the Help to Buy scheme, so hardworking people with sufficient earnings can get on, fulfil their aspirations and enjoy the security of owning their own home."
Labour's Shadow Housing Minister Emma Reynolds warned the government on its housebuilding record, which she said was as its lowest level since the 1920s.
"Any help for first time buyers struggling to get on the property ladder is to be welcomed. But rising demand for housing must be matched with rising supply if this scheme is to bring the cost of housing within the reach of low and middle income earners," she said.