US oil-drilling giant Halliburton has agreed to buy rival Baker Hughes for about $35bn in cash and stock, creating an oilfield services behemoth to take on market leader Schlumberger.
Halliburton's stock finished 10.62% lower at $49.23 on 17 November on the news, after a steep run up last week, valuing the firm at $46.8bn (£29.9bn, €37.5bn).
Baker Hughes stock finished 8.92% higher at $65.23, valuing the firm at $25.71bn. The stock jumped some 11% in intra-day trade.
Schlumberger's stock finished 0.33% higher at $95.63, valuing the firm at $122.58bn.
The deal, the second biggest in the American energy sector this year, could create a company with more revenue than Schlumberger, Reuters reported.
Halliburton said in a statement that the merger of the two Houston, Texas-based firms will save them a combined $2bn in costs annually.
Benefits and Overlap
The deal will help Halliburton plug gaps in two product lines – product chemicals and pumps that boost output from wells.
Halliburton Chief Executive Dave Lesar said the combined entity will be more resilient and able to offer a wider suite of products globally.
However, there are at least seven major services where there is an overlap between the two companies.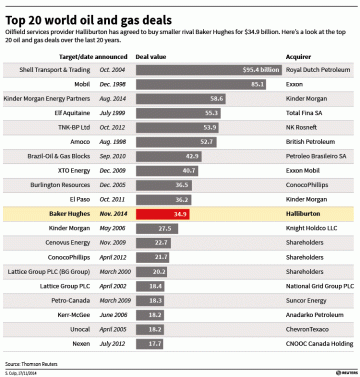 Halliburton said it was prepared to divest businesses that generate revenue of $7.5bn to satisfy regulators and that it will pay Baker Hughes $3.5bn if the deal was not cleared.
But RBC Capital Markets' oilfield services analyst Kurt Hallead told Reuters the risk of the deal failing was low.
Credit Suisse and BofA Merrill Lynch advised Halliburton while Goldman Sachs advised Baker Hughes.
Halliburton said in the statement: The combined company will maintain the Halliburton name and continue to trade on the New York Stock Exchange under the ticker symbol "HAL." The company will be headquartered in Houston, Texas.
"Dave Lesar will continue as Chairman and Chief Executive Officer of the combined company. Following the completion of the transaction, the combined company's Board of Directors is expected to expand to 15 members, three of whom will come from the Board of Baker Hughes..."
Lesar told the news agency: "Stronger in any market condition is better. We are in a cyclical business."
He told a conference call: "At the end of the day, we wouldn't have done this deal if we didn't believe it was achievable from a regulatory standpoint."
On a pro-forma basis, the combined company had revenues of $51.8bn in 2013, more than 136,000 employees and operations in over 80 countries the worldover.