The debate surrounding the Israeli-Palestinian dispute is as long as it is strange. Very often all sense of perspective or measure is abandoned. Two recent votes provide a stark case in point. One in Israel's parliament, the other within the Hamas leadership.
The first was the Israeli bill on settlements, the second was the rise to power of the volatile convicted terrorist Yahya Sinwar, now the new head of Hamas in Gaza. This, by the way, is a man whose name is on the US terror blacklist and who was initially sent to prison not for terrorism against Israeli civilians, but for murdering Palestinians over charges of collaboration.
In the debate, Israeli settlements are framed as a catastrophic blow to peace, whereas the choice of Hamas leadership is merely regrettable. But this attitude not only has the two issues the wrong way around ethically, it also shows how confused our strategic thinking about resolving the conflict is.
Settlements – Jewish towns and villages in the West Bank – simply aren't in the same moral category as Hamas terrorism against Israeli civilians, nor the Hamas tactic of using its own people as human shields during its wars with Israel.
As for what these two issues mean for peace, it is again Hamas that should really concern us. While Palestinians may object to the presence of a Jewish minority in the territory that could form a future Palestinian state, it is difficult to see how these communities – however contentious – could be considered more problematic than the mayhem and carnage of the three recent Gaza wars, each of which began with a massive increase in Hamas missiles being fired at Israeli civilian areas.
The election of Yahya Sinwar in Gaza could prove hugely destabilising. Yet, it was the recent vote in the Israeli parliament to legitimise unauthorised settlement outposts that provoked international condemnation and widespread coverage across the media. Angela Merkel has reportedly scrapped an upcoming summit between Germany and Israel in response to the settlements vote.
Meanwhile, I found myself participating in one BBC show – the Big Questions – where the topic for debate was whether Britain should even continue trading with Israel in light of this law.
In reality, many observers expect the new settlements bill to be struck down by Israel's Supreme Court as unconstitutional. Even if the bill were to make it into law, little would change on the ground. Land ownership in the West Bank has often proven notoriously difficult to verify, with multiple land registries, some going back to Ottoman and Jordanian times.
Large parts of the West Bank are categorised as unowned state lands, and this is where most of the settlements are. All that the new law proposes is that where there are disputes over landownership, Palestinians will be compensated financially and with alternative land, rather than evicting thousands of people from their homes.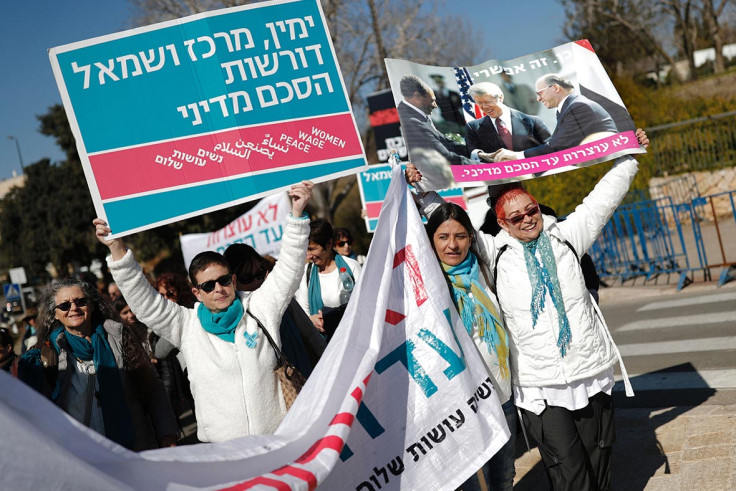 Critics may find plenty to object to in these new proposals, but there is something surreal about the way that what is essentially a property dispute has been escalated to the international level. That a question of suburban planning in a handful of remote outposts is apparently a matter for condemnation and heated debate across the media. After all, in 2005 the European Court of Human Rights approved a comparable compensation scheme for Turkish settlers in norther Cyprus, the incident seemed to pass without provoking international uproar.
Hamas runs Gaza as an authoritarian Islamist enclave where the people get no say.
It goes without saying that we will see neither the hand-wringing nor the outrage over the choice of Hamas leader. However, Yahya Sinwar's rise indicates that Hamas's radical Izzedine al-Qassam Brigades are becoming increasingly dominant within an already incredibly extreme movement. If you want a sense of how hard-line Sinwar is then consider his opposition to Hamas's release of Israeli captive Gilad Shalit in exchange for Israel's release of 1,027 terrorists. Sinwar was one of those released. And this is a man who not only opposes any compromise with Israel, he also opposes reconciliation with the Palestinian leadership in the West Bank.
It's worth considering that while Israel's recent settlement vote took place in its democratic assembly; where ultra-orthodox Jews, Muslim Arabs, openly gay right-wingers, pro-settlers and left-wing militant secularists all jostle in debate, Gaza's new leader was chosen in a secret vote, behind closed doors. Hamas runs Gaza as an authoritarian Islamist enclave where the people get no say. And it's a similar story in the West Bank where president Abbas hasn't held an election in over a decade. This alone says much about the two sides.
For the time being, however, it's still Jewish settlers that provoke the real outrage in television studios and diplomatic circles, more so than Hamas terrorists at least. Until we get a sense of perspective we'll struggle play a constructive role in the region.
---
Tom Wilson is a research fellow at the Henry Jackson Society.
---