When Basuki Tjahaja Purnama took over from Joko Widodo as governor of Jakarta in November 2014, he became the first Christian leader of the Indonesian capital in over five decades. But he did not have to wait long for his first scandal as senior leader in the world's most populous Muslim-majority country.
Ahok Fact File
Full name: Basuki Tjahaja Purnama
Age: June 29, 1966
Elected: November 14, 2014
Political affiliation: Independent
Religion: Christian
A little under two years into his rule, Basuki – who is known by his Chinese nickname 'Ahok' – was in court charged with blasphemy. The case brought hundreds of thousands of hard-line Muslims to the streets and has threatened to derail his re-election campaign.
On 15 February, millions of residents of the city will turn out to vote in the mayoral elections, with Ahok hoping he can retain his seat despite the scandal. He faces two other candidates, former education minister Anies Baswedan and Agus Harimurti Yudhoyono, the son of former president Susilo Bambang Yudhoyono.
Who is Basuki Tjahaja 'Ahok' Purnama?
Ahok rose to prominence as second in command to Joko Widodo when he was mayor of Jakarta. When Widodo took on the presidency of Indonesia in June 2014, Ahok became acting mayor and went on to win elections in November 2014.
Ahok is not only a Christian, but ethnically Chinese, making him a 'double-minority' in Muslim majority Indonesia. Despite his unpopularity with Islamist groups, Ahok was favourite to win February's election until he was put on trial for blasphemy, a charge he and his supporters deny.
His time in power has seen a marked increase in racially-motivated campaigns against him for both his Chinese heritage and his religion.
Did Ahok insult the Quran?
He and his supporters – many of them moderate Muslims – say "no".
The charges stem from a speech he gave on September 27, when asked about the opposition to his leadership by conservative Muslims.
He accused his opponents of using a passage from the Quran to falsely argue that Islam forbids Muslims being ruled by non-Muslims. "Ladies and gentlemen, you don't have to vote for me – because you've been lied to by those using [the Quran's] Surah al-Maidah verse 51," he told a crowd.
Islamist hardliners responded to his comments by bringing tens of 1000s of Indonesian Muslims to the streets, calling for him to be arrested and charged with insulting Islam. Days later, the police charged him under Indonesia's 1956 blasphemy law. If he is convicted, he could face five years in jail.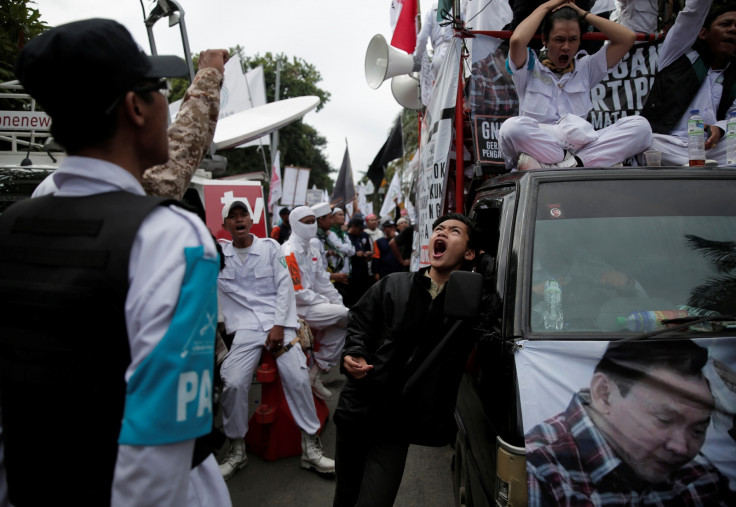 What next for Ahok?
On Wednesday, Ahok will see whether he has secured 50% of the vote required to win the election outright. If he does not, he will have to fight it out with one of his opponents in the second round.
His two opponents have directly appealed to the Muslim vote, and the election could end up being fought down religious lines. In a country where 90% of the population follow Islam, that does not bode well for Ahok, even if he has had support from millions of moderate Muslims.
As for his blasphemy trial, the future does not look bright. Although he is allowed to fight the election despite the ongoing proceedings, very few people charged under Indonesia's blasphemy law are ever acquitted. Andreas Harsono, from Human Rights Watch, told the Guardian in November that of 200 cases of blasphemy since 1956, only one has ever been acquitted.
"I don't think Ahok can survive this prosecution, he is very likely to end up in jail," he said.