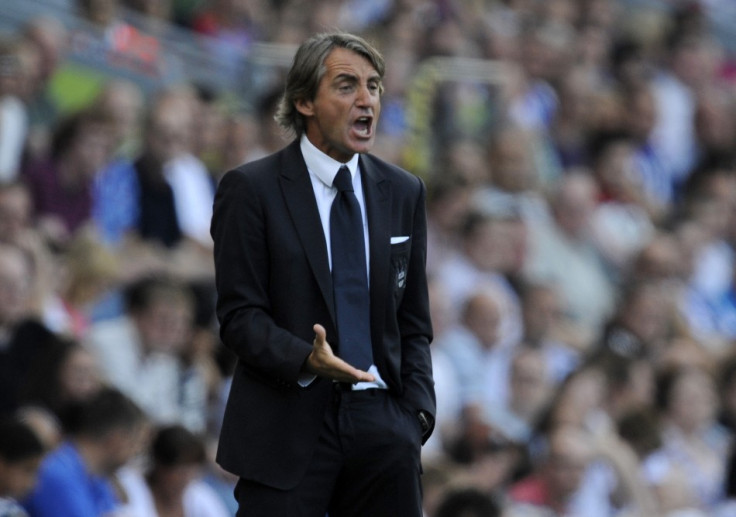 Alan Hansen believes Manchester City are the only English club in this season's Champions League that would benefit from early elimination in Europe's premier competition.
Aside from Arsenal all of England's representatives in this season's tournament have struggled with Manchester United and Chelsea yet to qualify and Manchester City looking increasingly vulnerable to crash out at the earliest stage.
Despite their problems Hansen believes Manchester City's troubles were inevitable given their lack of experience in Europe. The Match of the Day pundit suggests their low ranking in the seeding system was always going to deal them a tricky hand in terms of their group, and Bayern Munich, Villarreal and Napoli certainly represent that.
Unlike their Premier League counterparts Hansen believes Manchester City can use their possible exit in the Champions League as a catalyst to Premier League glory, intimating Roberto Mancini's side will thrive domestically without the distraction of Champions League football.
"Manchester City's struggles are slightly different to the other three (English clubs in the Champions League), even if they're the least likely of the English clubs to progress.
"In different circumstances, City would have been more of a threat in Europe this season, but their inexperience and lack of presence in the competition before now has cost them more than a lack of quality." Hansen told the Daily Telegraph.
"They undoubtedly have the players to go further, especially as many of them have played in World Cups and in the Champions League before.
"Manager Roberto Mancini's biggest problem is City as a football club have never been in the competition until this season, so they had an obstacle before the draw was even made given the Uefa seeding system is based on previous performance.
"It was inevitable City would have the toughest draw of all the English clubs, and it doesn't get much harder than playing representatives from Spain, Germany and Italy in the group stage.
"There is no embarrassment in struggling in such esteemed company.
"The other factor is the step up in class from the Premier League."
"Moving into the Champions League is similar to a Championship club adapting to being promoted to the top division. A club such as Manchester United have 15 years experience to fall back on. City are novices on the European stage.
"Such is the gulf in technical class, the atmosphere, the different tempo of the game and the quality of every team you play, it is too much to expect to start instantly beating everyone you face.
"Mancini admitted his players were nervous during their first game, and they've been playing catch up ever since they lost to Bayern Munich in the second match."
Although Manchester City fans may disagree, Hansen believes Roberto Mancini's side could actually benefit from an early exit from the Champions League. The former Anfield stalwart suggests it would allow them to concentrate on increasing their five point gap in the Premier League title race.
"While they'll be desperate to make amends on Wednesday and hope for a favour from Villarreal, it won't be so catastrophic if City fail to get through.
"They will be a regular in the competition in the next few seasons, and they will be much stronger when they return.
"An early exit may actually help them in this as they eye their first priority of winning the Premier League.
"In usual circumstances I'd suggest prolonging interest in the Champions League adds an impetus to your season. If Chelsea qualify, for example, it will transform the mood at Stamford Bridge.
"In City's case, this does not apply. They are bound to suffer a blip at some point and their reaction to that will determine if they're going to win the title or not.
"The chance to focus solely on winning the Premier League will be to their advantage."