Over 1 million partygoers are expected to swarm New York City on New Year's Eve to witness the famous Times Square ball drop, with millions more watching the festivities on their TVs and online across the world.
Sitting atop the roof of One Times Square, the 11,875 pound (5,386kg) ball begins its 141ft (43m) descent at 11.59pm EST (4:59am GMT). It takes 60 seconds to reach the bottom of its pole, signalling the start of the New Year.
The tradition began at the turn of 1907 into 1908, when the owner of The New York Times newspaper, Adolph Ochs, wanted a spectacle to promote the publication's new HQ at One Times Square. The traditional has continued every year, except in 1942 and 1943 t observe the wartime blackout.
The original ball was designed by Artkraft Strauss, and was made of wood and iron with 100 incandescent bulbs. The design has been revised seven times over the years, and the modern versions are often tweaked with new lighting schemes and effects to reflect a theme.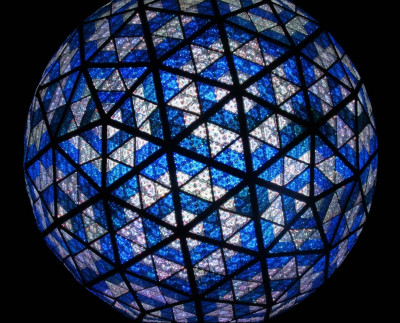 The current ball is a 12ft diameter geodesic sphere, lit with 32,256 computer programmable LED bulbs shining through an adornment of 2,688 Waterford Crystals, making for a palette of 16 million colours. This year's theme is 'Gift of Wonder' which will add 288 crystals to the existing 'Gift of Imagination' design comprised of 2,112 crystals. The ball is now permanent, built to withstand the harsh weather conditions it is exposed to atop the pole at One Times Square, allowing it to be displayed year round.
The build up to the drop is accompanied by a variety of performances and events. This year's highlights include a Chinese cultural performance by the Sino-American Friendship Association, the USO Show Troupe Performance, musical performances by Daya, Jessie J, an appearance by Bill Nye The Science Guy, and the Associated Press 2015 Year-End Video Highlights.
As the ball rings in the new year, a large '2016' sign will illuminate the square, the revellers will rejoice the traditional midnight kiss, and confetti and colourful pyrotechnics will be released to accompany the celebrations.
Attending the ball drop Live in NYC
Those hoping to attend the ball drop live will have to prepare in advance, as Times Square is set to be closed to vehicular traffic starting at 4am EST (10am GMT). New York City police officers will begin directing spectators to gather in separate viewing sections at about 11am and will close each section as it becomes filled.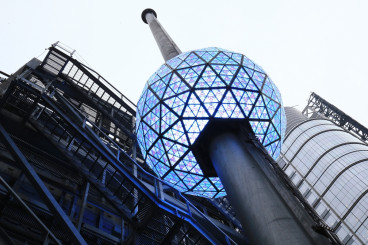 Spectators – who are asked to leave backpacks, large bags and alcohol at home – will be able to watch the ball drop from Broadway and Seventh Avenue moving uptown from 43rd Street to Central Park. Revellers who leave the viewing areas before the famous ball drop will be unable to return to their original spots.
New York Police Department (NYPD) is urging people to take public transportation due to street closures and parking restrictions. On-street parking for those who do attempt to drive into the city will be very limited in midtown.
Police will conduct driving while intoxicated (DWI) patrols and checkpoints throughout the city. Parking restrictions will stretch through a number of streets from 12.01am EST on 31 December to 1am on 1 January.
The weather will be cold during the event, and it often rains. Snow has only been experienced seven times during its 109 year history. Come dressed warmly with a waterproof layer just in case.
Watching the show from the US
For those around the US who cannot attend the festivities in the city that never sleeps, there are several options to watch on TV.
Dick Clark's New Year's Rockin' Eve on ABC will begin broadcasting at 8pm EST with host Ryan Seacrest. Singer Fergie, of Black Eyed Peas fame, will host from Hollywood. Performers will include Nick Jonas, Carrie Underwood, Pentatonix, Macklemore, Fall Out Boy, Jimmy Buffet and Ryan Lewis. Pop princess Taylor Swift will also debut her new music video for her son Out of the Woods.
New Year's Eve Live With Anderson Cooper and Kathy Griffin on CNN will also begin broadcast at 8pm with everyone's favourite odd couple. The news anchor and comedian will be joined by Richard Quest, Brook Baldwin and Don Lemon in New Orleans, Randi Kaye in Memphis, Gary Tuchman in Hershey, Pennsylvania and Poppy Harlow from Rio de Janeiro, Brazil.
Pitbull's New Year's Revolution on Fox will give viewers a third option to watch at 8pm. The rapper, who is letting fans choose which song he will perform, will host live from Miami, Florida. Performers will include Puff Daddy, Yazz, Jussie Smollet and Timbaland.
NBC will bring in the new year with two specials. New Year's Eve Game Night With Andy Cohen will begin broadcast at 10pm, while New Year's Eve Live With Carson Daly will take over at 11.30pm. Gwen Stefani will perform during the second special.
Watching from around the world
If you find yourself nowhere near a TV or are watching the festivities from outside the US, TimesSquareNYC.org will feature a live webcast. You can also watch host Allison Hagendorf and correspondents Andrea Boehlke, Jeremy Hassell and Maggie Rulliduring the commercial-free webcast below.