A group of women dressed in Welsh outfits were banned from London store Harrods on St David's Day because of their attire.
The six women, from Bridgend, were visiting London for a shopping and theatre trip and were dressed in traditional Welsh attire, consisting of a Welsh hat and cap, a gown, a red skirt, a shawl and an apron.
However, when trying to visit Harrods, security guards at the store turned them away, saying their outfits were not suitable for the high-end store.
Harrods has a dress code, but it does not exclude traditional Welsh outfits: "The dress code does not permit any person to enter the store dressed in the following manner: wearing high-cut, Bermuda or beach shorts; swimwear; athletic singlets; cycling shorts; flip flops or thong sandals; with a bare midriff or bare feet; or wearing dirty or unkempt clothing."
The outfits worn by the Welsh women each cost hundreds of pounds to put together and were part of the group's attempt to bring some Welsh culture to London on their patron saints day.
One of the women, Gaynor Newton, 56, said: "We looked stunning and there was so much hype with people beeping their horns and wanting pictures. Until we got to Harrods' front door."
A security guard at the store told them: "You can't come in here dressed like that."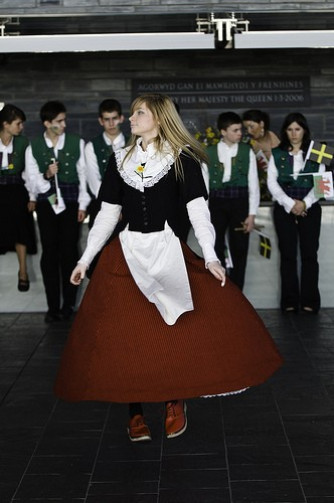 Newton said: "We were gobsmacked - we were smartly dressed and well behaved on our national day.
"The first woman security officer who stopped us was quite rude and just said we could not enter the store because we were in our national costume.
"As we stood there an Asian woman in a sari and an African woman in lovely colourful robes both entered the store without a problem."
Harrods eventually let the group in and later apologised for the incident: "The security guard asked for the group to wait while she double-checked it was in keeping with our dress code.
"The women didn't want to wait, and went to another entrance where they were admitted, as by that time the security team were aware they were wearing national dress.
"We certainly did not deny them entry and always welcome all visitors in national costume. We apologise for any confusion and hope they went on to have an enjoyable visit."
The rest of London appeared to like their outfits, however. Organisers at a St David's Day promotion at Paddington had asked them to join in their celebrations, while tourists stopped them to take pictures.
"We got in eventually but it tarnished the weekend," Newton said.