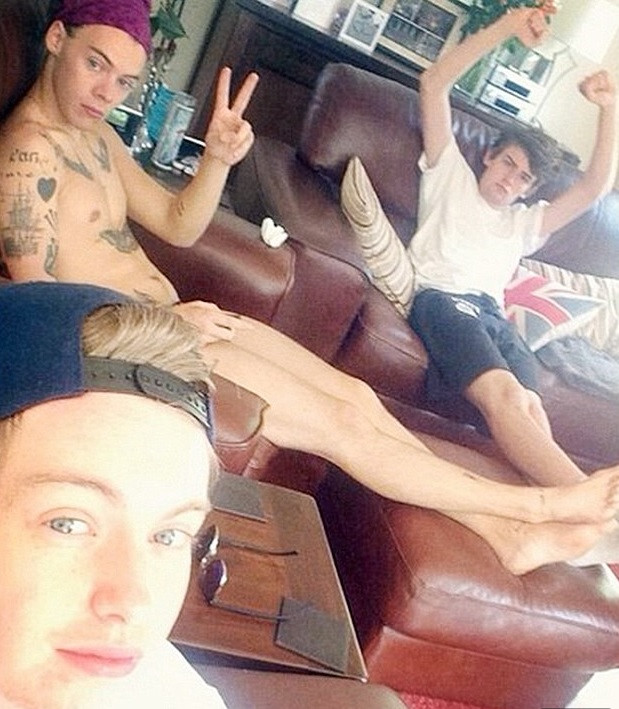 As his One Direction bandmates continue to make headlines for all the wrong reasons, Harry Styles is doing his best to lighten the mood.
The 21-year-old heartthrob has showed off his cheeky side by posing naked for an Instagram snap.
In the image, the singer, who has dated the likes of Taylor Swift and Kendell Jenner, can be seen watching the boxing duel between Carl Froch and George Groves with his cousin and friend starkers.
Styles reclines on a sofa with a purple scarf on his head with his hands strategically placed on his upper thigh to protect his modesty.
"Just watch the fight from last night! Class!" his cousin Matt Selley, who posted the pic, captioned the snap.
Within minutes the racy image had been shared and 'liked' more than 16,000 times on the photo-sharing site.
"Well hello there," one admirer said.
Another wrote: "OMG I Cant breathe."
Styles' racy display comes after a video surfaced showing bandmembers Louis Tomlinson, 22, and Zayn Malik, 21, allegedly smoking a 'joint' in the back of a car in Peru.
Liam Payne has since slammed the duo's actions and insisted that the group have "a lot of growing up to do," following the drugs scandal.
"I love my boys and maybe things have gone a little sideways I apologise for that," he tweeted.