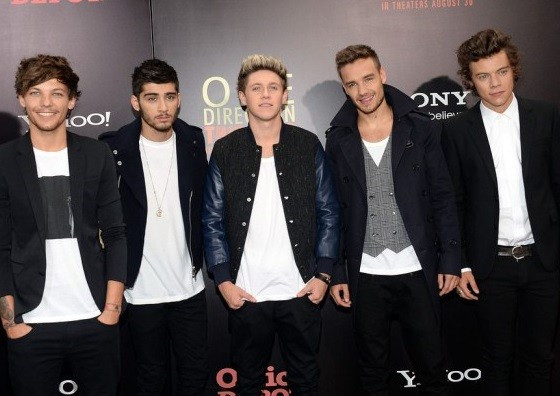 One Direction's squeaky-clean image has been put under the radar after footage allegedly emerged of band member Zayn Malik smoking a roll-up joint with Louis Tomlinson while on the Latin American leg of their 2014 Stadium Tour.
The five-minute video shows Zayn, 21, lighting up in the back of their SUV as fellow band member Louis, 22, narrates from behind the camera.
"So here we are, leaving Peru. Joint lit. Happy Days!", announces Louis.
He then asks Zayn: "What do you think about this kind of content?" And he replies: "Very controversial."
The footage from Louis's mobile may have been stolen, possibly by a disgruntled member of the band's staff, according to One Direction sources.
They were being ferried by security to Peru's Estadio Nacional in Lima where One Direction performed to a 40,000 capacity crowd on 27 April as part of their 'Where We Are Tour'.
Louis is heard in the video joking that "Mary J" – a slang term for marijuana – is "one very very important factor of Zayn's warm up" as his bandmate apparently lights up and takes a drag.
"Zayn takes his job very seriously. He makes sure he goes through a two-hour intense warm-up before every show. Just to get himself in the zone for the show.
"One very very important factor of Zayn's warm up of course if Mary J herself. In fact I will present it to him now for some fantastic singing."
Zayn then smilingly accepts what appears to be the lit joint and takes a drag.
"How is it Zayn?" Louis asks. Pausing a second before he exhales Zayn replies: "Nice".
Louis films the street outside before panning back again to Zayn , asking: 'How's that kind of culture?'
To which Zayn replies: "It's great. It's going to be even greater culture when we get to Jamaica."
Then as a motorbike police escort drives past their SUV, Louis said: "That's the police. That's the po po. One-nil."
"One nil b***h! Look at this b***h! He's having a look. He's thinking, 'I'm sure I can smell an illegal substance in there'. And he's hit the nail on the head," he added.
A cough followed by a cloud of smoke, floats across the camera lens and Louis yells: "Smokescreen baby!"
Fellow bandmates Liam Payne, Harry Styles and Niall Horan, all 20, were not in the six-seater SUV.
It is likely to potentially jeopardise Simon Cowell's plans to build on their huge success in the United States and propel his band further to superstar status.
A 1D spokesman said: "This is in the hands of our lawyers."
The band is due to perform at the Stadium of Light in Sunderland tonight.