A man posted a video of a Sikh man sleeping next to him on a plane under the title: 'Would you feel safe?' The man's selfie video scans between the Sikh passenger and his own grinning face and is captioned: 'Flying with Bin Laden'.
The elderly Sikh passenger was reportedly filmed on a Jet Blue flight from New York to California, with the video that was uploaded to YouTube causing an uproar among human right advocates. United Sikhs, a US-based NGO that fights for minority group rights, is now attempting to remove the video from YouTube. It has been viewed nearly 80,000 times since it was posted on 9 December.
"Incidents like this are shocking," said Jaspreet Kaur, staff attorney for United Sikhs. "No one, Sikh, Muslim or otherwise, should be afraid to travel. These types of incidents only weaken the fabric of our nation."
According to United Sikhs, the man in the video is Darshan Singh. Singh's 20-year-old daughter reportedly contacted United Sikhs to alert them of the video after her and her father saw it online. Singh said that he exchanged no words with the man who filmed him and was surprised when he saw the video of himself.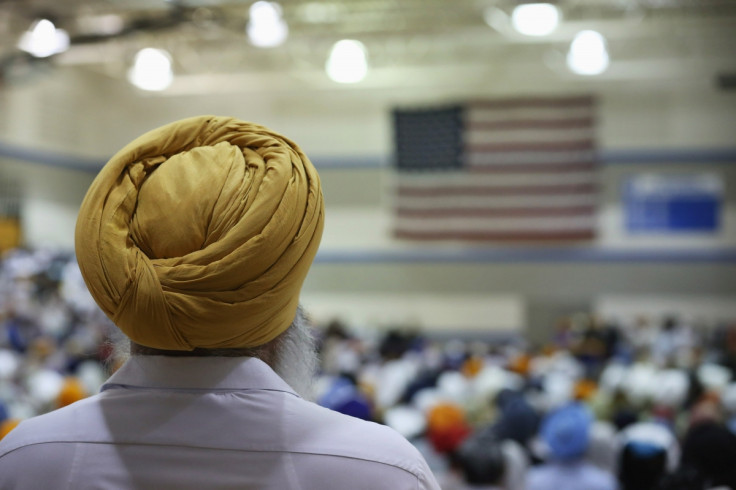 The incident comes in the wake of a number of recent hate crimes against Sikh Americans, which have peaked following the Paris attacks and the San Bernardino shooting. Sikh groups believe that Sikh men are increasingly being mistaken for Muslim terrorists because of their turbans. On 6 December a Sikh Gurudwara (temple) was vandalised with anti-Islamic State graffiti.
Kaur said: "It's everyone's responsibility to be aware of acts of ignorance around them and to report them when they see them. Only then can we unify ourselves against hate, ignorance and discrimination."
Thousands have commented on the YouTube video of Singh to condemn the person who filmed it, with more than 900 people hitting the "dislike" button and many claiming to have reported it. One YouTuber commented: "I wouldn't feel safe sitting next to the guy recording this. Might have some mental health issue. Get educated about Sikh people first."
On 14 December the Obama administration ensured Sikh Americans that they would do all they could to keep them safe from hate crime. Addressing a gathering of Sikhs at the White House, Valerie Jarrett, a senior political advisor for President Obama, said: "You are part of such a vital member of our community and a big and vibrant part of what makes our country so great. So when your community comes under attack, we are all in danger."