Six people – including two former HBOS bankers – who were found guilty of bribery and fraud that cost the bank's customers millions, were slapped with hefty custodial sentences at a hearing in London's Southwark Crown Court on Thursday (2 February).
Lynden Scourfield – formerly a manager with HBOS – who pleaded guilty to six counts including corruption, was jailed for 11 years and three months. In exchange for bribes and gratuitous favours, Scourfield told customers to use turnaround consultants Quayside Corporate Services, which subsequently defrauded those sent their way.
Mark Dobson, another former HBOS manager and co-accused, was given four-and-a-half years. David and Allison Mills, the couple who ran Quayside, received 15 years and three-and-a-half years in jail respectively. Businessman Michael Bancroft was jailed for 10 years and consultant John Cartwright got three-and-a-half years for their convictions on counts including bribery, fraud and money laundering.
Earlier, it was revealed in court that Bancroft and Mills arranged sex parties attended by porn starlet Suzie Best and other high-end escorts for Scourfield. Exotic foreign holidays, cash bribes and other favours in kind followed between 2003 and 2007.
In exchange for the bribes, the former HBOS banker impressed upon the bank's small business customers to use Quayside. In turn, Quayside, which sold its services as a turnaround consulting firm, offering expertise to help small business customers improve their fortunes, docked the HBOS clients sent their way with huge fees, while Mills used their relationship with Scourfield to bully owners and strip them of their assets.
Court documents reveal that £28m went through the accounts of Mills, his wife and their associated companies in cash fees alone. However, the true value of the corrupt relationship was even greater.
HBOS, which was rescued by Lloyds Banking Group during the financial crisis, internally estimated the cost of Scourfield's lending activity as more than £300m in early 2007. Some estimates, based on further losses faced by those affected, put the cost at somewhere in the region of £1bn.
Once HBOS customers appointed Quayside as turnaround consultants, Mills and Bancroft would submit inflated cash flow forecasts and other figures for the businesses in question to HBOS, which would in turn extend far more money than needed.
Quayside would subsequently gain from fees as well as siphon off funds in loans that were loaned on to other companies controlled by Mills, and others, that would never be repaid.
Additionally, if a business sent Quayside's way by Scourfield had good prospects, Bancroft or Mills would use their relationship with HBOS, threatening the firm that if they failed to accept their instructions, the bank would pull their credit line. Quayside would then insist on a seat on the board, or a shareholding, or, eventually, control of the business.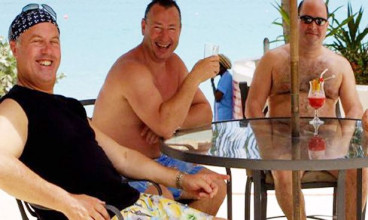 Presiding Judge Martin Beddoe reserved his fiercest comments for Scourfield, noting he had "sold his soul" to Mills in exchange "for sex, for luxury trips, for bling and for swag".
Prosecutor Brian O'Neill QC said there was a pattern of abuse of businesses who were "run down by incompetency or as a deliberate policy or as a combination of the two; complete disregard for the interests of existing shareholders and creditors; increasing levels of bank funding improperly diverted between companies and to Mills entities; the theft of company money and of money due to the bank; and eventual insolvency resulting in huge losses to the bank and others.
"What Scourfield gave Mills in addition to fees was the opportunity to take control of the various businesses and, in some cases, to acquire ownership of them. Mills and his associates used the bank's customers and the banks's money dishonestly to enrich themselves," O'Neill QC told the court.
The court noted that many individuals suffered great financial loss and considerable personal trauma at the hands of those convicted. Ten years on from the original revelation, HBOS owner Lloyds Banking Group has not acknowledged the full scale of the fraud, or offered to compensate its victims.
After the sentencing special prosecutor Stephen Rowland said the case was one of the largest and most complex the special fraud division of the Crown Prosecution Service had ever prosecuted.
"It involved millions of documents, a lot of the material we had to look at was electronic and of course in this day and age the capacity for electronic media is huge."