Further lurid details of the US election campaign have been revealed in an explosive book, including claims that Donald Trump was "horrified" to learn he had actually won.
In the book Fire and Fury: Inside the Trump White House, author Michael Woolf outlines how on election day, Trump had expected to lose but was still anticipating a boost in his brand which he could capitalise on. But when the votes came in, his mood shifted.
He wrote how "a befuddled Trump morphing into a disbelieving Trump and then into a horrified Trump". When he had won, he "looked as if he had seen a ghost", according to his eldest son, Donald Jr in excerpts pf the book, published by the Times.
Trump had promised his wife, Melania, that he would not win and she wept when he did, but they were not tears of joy, it claimed.
"Trump did not enjoy his own inauguration. He was angry that A-level stars had snubbed the event, disgruntled with the accommodations at Blair House — the president's guest house — and visibly fighting with his wife, who seemed on the verge of tears".
Stephanie Grisham, spokeswoman for Melania Trump, dismissed the book as "fiction" and that of her husband's victory: "She was confident he would win and very happy when he did".
The book describes how he and Melania have separate bedrooms, the first time the first couple has done so in the White House since when John F Kennedy was president.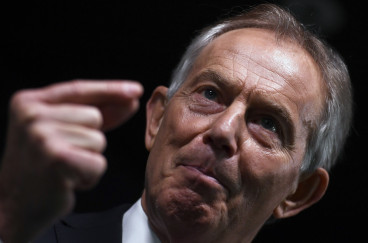 It also depicts a fear Trump had that he could be poisoned and so domestic staff are not allowed to touch his belongings, especially his toothbrush. It also explains his penchant for fast food because it can be made by a McDonald's cook who does not know who will eat it.
The Tony Blair connection
Meanwhile, the book also claimed that Tony Blair had warned aides to Donald Trump that British intelligence had spied on the team during the US election campaign, amid reports that he had met Trump's son-in-law several times.
The former British prime minister was said to have pushing for a post as a Middle East adviser to the president. However a month later, the then White House press secretary, Sean Spicer, alleged that GCHQ had spied on Trump Tower, which the British intelligence agency denies.
However a spokesperson for Blair told the Independent the claims as a "complete fabrication, have no basis in reality and are simply untrue".
Trump said that his former adviser Steve Bannon had "lost his mind" after the book quoted him as saying that he went after the president's son, Donald Trump Jr.