Heartbroken George Russell fights back tears after Singapore GP crash
The Mercedes driver crashed on the last lap while trying to catch Lando Norris and Carlos Sainz for the win.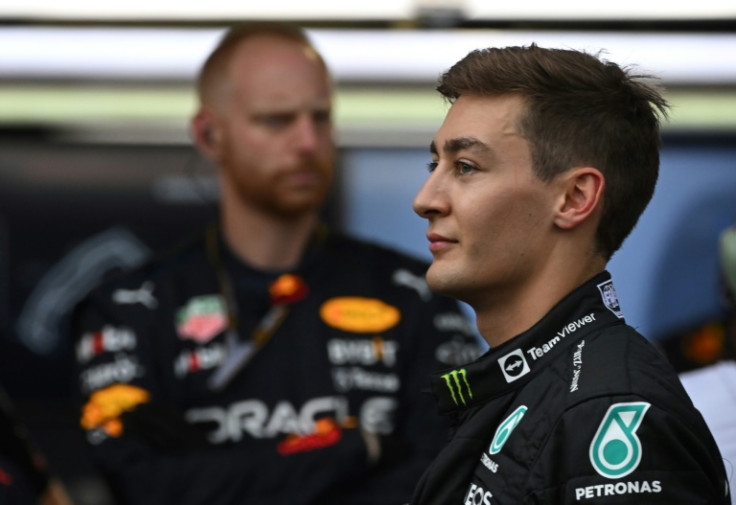 Mercedes driver George Russell is left to rue his mistake after crashing out during the final lap of the 2023 Singapore Grand Prix. He had a strong chance of taking the first victory of the season by a non-Red Bull driver, but everything went up in smoke when he clipped the wall and smashed into the barriers as he was in hot pursuit of McLaren driver Lando Norris.
Russell was understandably emotional after the race, and he was visibly holding back tears as he spoke about the "heartbreaking" moment which made him end up in the barriers.
Russell said: "I'm lost for words to be honest. I think we were half a car's length away from winning the race, had we been able to overtake Lando when I had that one opportunity. And then that last lap, I don't know what the hell happened there. Whether it was a lack of concentration, maybe frustration knowing that that was our opportunity gone, a mistake of one or two centimetres has just put such a shadow over the whole weekend – one which would have been an amazing weekend."
How the race played out
Ferrari driver Carlos Sainz started from pole position and managed to convert that into the second victory of his career and his first since joining Ferrari. However, it was not a straightforward victory at all, as he needed all of his skills and racing IQ in order to fend off the attack from McLaren's Lando Norris and both Mercedes drivers in the closing stages of the race.
Sainz managed a clean start and hunkered down to manage his tyres for most of the first stint. His teammate, Charles Leclerc managed to jump Russell into second place, therefore allowing the two Ferraris to dictate the early pace.
Russell was also jumped by his teammate Lewis Hamilton after the seven-time world champion veered off the track in the early chaos. He later had to give the place back to both Russell and Norris to avoid a penalty.
The pack then piled up fairly closely behind Sainz, with barely anything happening for several laps. Then, Logan Sargeant hit the wall, which in Singapore almost always means a safety car. Ferrari had to double stack their cars, and even though the stops were flawless, Leclerc had to be held in the garage longer than he wanted in order to avoid an unsafe release due to the Mercedes of Lewis Hamilton, which was blocking his way thanks to their own double-stacked pit stop.
This essentially ruined Leclerc's race, with the Monegasque ending up all the way down in sixth place. The Red Bulls didn't stop, however, which meant that the top ten order at the Lap 22 restart was: Sainz, Verstappen, Russell, Perez, Norris, Leclerc, Hamilton, Alonso, Ocon, and Bottas.
However, with both Red Bulls on old hard tyres, it did not take long for Russell to overtake Verstappen and for Norris to overtake Perez.
The race settled down once more before Esteban Ocon ended up parking his Alpine on the track due to an engine failure. This time, Mercedes acted quickly and pitted both their drivers. while everyone else stayed out.
Russell and Hamilton were the only drivers on fresh tyres, and their speed was blinding! They quickly overtook the Red Bulls and Leclerc, and it became clear that they had the speed to catch both Norris and Sainz.
Carlos Sainz and his smooth operation
Russell quickly went up to third place with his teammate close behind, and they began piling the pressure on Norris. Race commentators kept urging Sainz to put the pedal to the metal to get as big a gap as possible, but he had a different idea.
Sainz asked his engineer to update him on his gap to Norris, and he started slowing down to gift the McLaren driver DRS. He allowed Norris to stay within a second behind so that he could take advantage of the extra DRS speed to help defend against the Mercedes drivers.
Russell started to get frustrated and Hamilton was even putting pressure on him from behind as well. Norris kept his cool and took advantage of the DRS to keep his elbows out, forcing Russell into a mistake in the final lap. The Briton clipped the wall and lost control of his car, which ended up in the barriers with just a few miles left before the flag.
Russell's hopes of a podium ended in the barrier and Hamilton also looked devastated even after taking the final podium position.
Meanwhile, Leclerc held on to fourth place after holding off Max Verstappen. This ends the Dutchman's 10-race winning streak, and it was a refreshing change to see the first non-Red Bull driver finally winning a race in 2023.
© Copyright IBTimes 2023. All rights reserved.