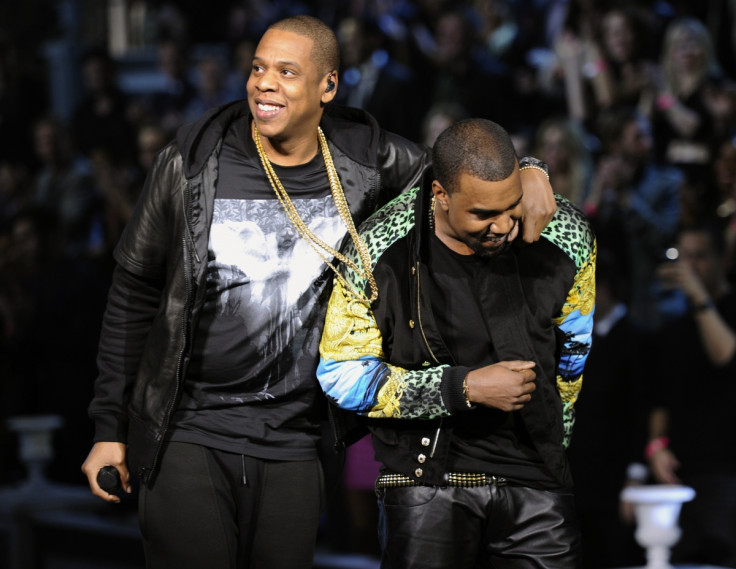 Kanye West was all smiles as he broke bread with rapper 2 Chainz on Sunday (2 July) amid his escalating feud with former best friend Jay-Z.
West's wife Kim Kardashian invited 2 Chainz, real name Tauheed Epps, and his family over for Sunday dinner to celebrate the Fourth Of July weekend. Hosted at her Bel Air mansion, Kardashian, 36, cooked up a storm on the barbecue serving up chicken with macaroni cheese, collard greens, plantain and other delights.
In a series of Snapchat posts, Kardashian teased the party stating: "It's going down today." West, 40, could not have looked more pleased to be hanging out with his friend 2 Chainz, smiling broadly in photos together.
Creating the perfect family portrait, West was also beaming in a photo with Kardashian and their children, North, four, and Saint, one, alongside 2 Chainz and his longtime partner Kesha Ward and their brood, Heaven, Harmony and Halo.
The West family seemed to have a good turn out for the BBQ with dozens seen around a lengthy dining table. Kardashian's mother Kris Jenner appeared to be having a great time as the matriarch was seen dancing to Bruno Mars' song That's What I Like and West's own track Can't Tell Me Nothing.
West and 2 Chainz, 39, have been friends for at least four years and have collaborated several times on tracks such as Mercy and Birthday Song.
It seems West could be strengthening his bond with 2 Chainz as his friendship with Jay-Z continues to deteriorate. After Jay-Z, 40, addressed their feud on his new album 4:44, reports suggest that West has pulled out of streaming service Tidal in a dispute over money.
According to TMZ, West is threatening to sue Tidal, which Jay-Z part owns, for failing to pay him a bonus after his 2016 album The Life Of Pablo brought in over one million new subscribers to the service. The Famous rapper also wants payment for music videos but Tidal claim he has not produced any.
Alluding to their epic fallout on his new track Kill Jay-Z, the hip hop icon raps: "But you got hurt 'cause you did cool by 'Ye/ You gave him 20 million without blinkin'/ He gave you 20 minutes on stage, f**k was he thinkin'?"